Samantha Bee Explains Why Crisis Pregnancy Centers Are Bullshit, With Patton Oswalt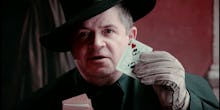 Samantha Bee has already put Georgia Sen. Renee Unterman to task for undermining efforts in her state to account for untested rape kits, and now, she's taking another jab at the senator for her funding of crisis pregnancy centers. The centers, as Bee notes, dissuade women from having abortions. 
"Much like Renee Unterman, crisis pregnancy centers may look sweet and helpful, but they're really full of toxic bullshit," she says. 
To help prove her point, Bee recruited comedian Patton Oswalt to explain how tricky crisis pregnancy centers can be. Since they often try and create the illusion that they're similar to abortion clinics — all the way to their logos and fonts — Oswalt went with an Orson Welles-themed presentation. "We are casting our gaze toward the ultimate hustle," he says. "A conception deception. A masterpiece of gynecological grift: crisis pregnancy centers."
Oswalt continued to narrate, as women explained the deceitful ways in which the pregnancy centers treat them. As one noted, she had to wait for hours to get the results of her test, and in the meantime, was presented with sermons, propaganda and false medical information. To help illustrate these points, Bee helped reenact some of these scenes as a less-than-qualified doctor. 
Yet despite the shady tactics, the crisis pregnancy centers continue to be funded by states, much to the chagrin of Oswalt. "State governments give millions of dollars — your tax dollars — to these dickheads for abstinence education, even though they're educators the same way that Darth Vader was a good fucking father," he says. 
"Tricks and illusions are fun," Oswalt concludes. "But crisis pregnancy centers are just plain assholes." 
Check out the full video below:
Read more: 'Full Frontal With Samantha Bee' Tackles Untested Rape Kits and Local Politics