Zendaya Claps Back at Troll Who Told Her She Looks Like "a Gay Dude Wearing Makeup"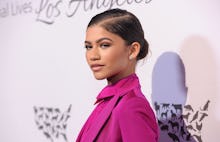 After scorching the earth in a custom Michael Kors gown at last week's Met Gala, then doing it all over again days later at a gala for the Humane Society (in a hot pink pantsuit, no less), Zendaya's meteoric rise from "who?" to them status has been all but been affirmed. 
Add to that her recent casting alongside Meryl Streep and Nicole Kidman in the animated film The Guardian Brothers, not to mention a cameo in Beyoncé's Lemonade, and it's as clear as the translucent latex of Bey's Met Gala gown that Zendaya doesn't pick fights — she ends them. 
Being the benevolent goddess that she is, Zendaya pardoned herself from the glitz and glam of living a boss-ass existence to pay a smidge of mind to the internet's lowest common denominator: a troll.
"She looks like a gay dude wearing makeup," Twitter user ClutchLikeRomo wrote in response to a photo the 19-year-old posted using the flower crown Snapchat filter.
Z didn't let an hour pass before deciding to smack this young Romo's ass into formation.
And with that, the clapback queen returned atop her kingdom as Giuliana Rancic watched on in silent, dumb-founded awe.