India's Limb-Lengthening Industry Is Booming Despite Zero Medical Oversight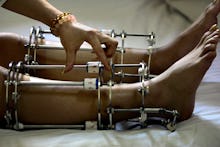 Cosmetic limb-lengthening surgery is booming in India, though it is a medical procedure that remains unregulated in the country.
Some Indians who have opted for the painful surgery with a protracted recovery time of around six months say being short can hinder marriage and job prospects.
"I have so much confidence now," a 24-year-old woman who added 3 inches to her height told the Guardian. She didn't tell her friends where she was during the recovery time. Her mother and father sold their land, which had been in the family for generations, in order to afford her surgery. 
Read more: Dark-Skinned South Asian Women Are Fighting Their Cultural Racism with #UnfairAndLovely
"I was just 4-foot-6-inches. People used to make fun of me and I couldn't get a job," she told the Guardian. "Now my younger sister is doing it too."
Many medical professionals — even some who opt to perform the surgery themselves — warn of the dangers, given the complete lack of medical oversight. 
"This is one of the most difficult cosmetic surgeries to perform, and people are doing it after just one or two months' fellowship, following a doctor who is probably experimenting himself," Dr. Amar Sarin, a Delhi-based orthopedic surgeon who's developed a reputation for successfully performing the procedure hundreds of times, told the Guardian. "There are no colleges, no proper training, nothing."
S. Nikhil Reddy, a 22-year-old man who opted to have the surgery to add 3 inches to his 5-foot-7 frame, told the Times of India in April he was misinformed by doctors and regrets undergoing the procedure, which, if unsuccessful, can leave a person crippled.
"I feel cheated as I was never told about the adverse side-effects before the surgery," Reddy told the Times of India. "I was told that pain would be little and tolerable, but it is far from truth."
Not unlike the popular practice of skin-lightening in India (bleach cream is a $500 million industry) this cosmetic trend can arguably find its roots in neocolonialism, given Indians tend to be shorter than Caucasians.
Indian women are, on average, about 5 feet 3 1/2 inches tall, while the men average 5 feet 4 3/4 inches in height, according to the website AverageHeight.co. American and British women, on the other hand, tend to be 1/4 to 3/4 inches taller. However, the biggest difference lies between the men: American and British men are around 5 inches taller, with average heights of 5 feet 9 1/2 inches and 5 feet 9 3/4 inches, respectively. 
Despite the risks and potentially troubling psychological underpinnings of the procedure's popularity, trends suggest it will only become more commonplace.