Leonardo DiCaprio and Jason Momoa Slam Proposed Oil Pipeline in Support of Sioux Tribe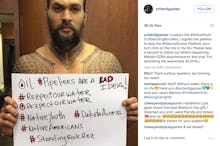 Leonardo DiCaprio, Jason Momoa and other Hollywood figures are speaking out against the Dakota Access oil pipeline, which — if built — would cut right beneath the Missouri River, the main water source for the Standing Rock Sioux Tribe.
DiCaprio, who spoke in favor of indigenous rights during his Academy Awards acceptance speech in February, shared a post on Instagram Monday night that depicts a young girl and a woman holding a sign with the hashtags #RezpectOurWater and #NoDakota Access, which have been used to unite the fight against the oil project on social media:
Momoa also chimed in on the controversy. "Oil pipelines are a bad idea!" he wrote on Instagram Wednesday:
The movie stars' remarks come at a crucial time in the oil project's development. In the coming months, the U.S. Army Corps of Engineers, which has jurisdiction over the federal lands through which the pipeline would travel, is set to decide whether the developer has the necessary permits in order to begin construction.
The Corps' approval is the last step before the project can move forward: All four states through which the pipeline would pass — North Dakota, South Dakota, Iowa and Illinois — have approved the project, as have the vast majority of private landowners whose territory the pipeline would cut across, according to Indian Country Today Media Network.
The Dakota Access Pipeline would run a total of 1,168 miles.
The project has sparked a passionate debate nationwide. Supporters of the pipeline argue it will reduce American reliance on foreign fuel and create between 8,000 and 12,000 new jobs during construction. They also claim it will generate millions of dollars in state revenue from property and income taxes. 
But opponents aren't so hot on the idea. Members of the Standing Rock Reservation, which straddles the border between North and South Dakota, worry it will pollute their most important water source. The pipeline would burrow underneath a section of the Missouri River located just a few hundred feet north of the reservation. 
If an accident occurs — if the pipeline bursts, for example — that water source could be contaminated with oil. There have already been more than 2,000 oil pipeline leaks in the US since 1995. Most recently, the TransCanada Keystone Pipeline burst near Freeman, South Dakota, in April, spilling 16,800 gallons of oil into the surrounding area.
So far, the debate over the Dakota Access Pipeline hasn't galvanized the national media. But the attention generated by Momoa, who is Native Hawaiian, and DiCaprio, a longtime environmental justice advocate, could translate into broader mobilization around the issue. This would be a good thing. For the Standing Rock Sioux, this could literally be a fight for their lives.