The Benefits of Probiotics Are Probably Bullshit, According to Science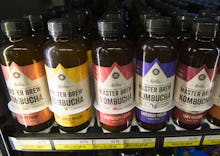 Gut bacteria is touted as the key to healthy life, able to reduce cancer risk, ease anxiety and treat PTSD, among other things. As such, the global popularity of probiotics has exploded in recent years. But they may be bullshit: As the Guardian reported Tuesday, a study by a team of Danish researchers suggests that healthy individuals shelling out money for trendy lacto-fermented drinks and snacks are probably flushing money down the drain. 
"According to our systematic review, no convincing evidence exists for consistent effects of examined probiotics on fecal microbiota composition in healthy adults, despite probiotic products being consumed to a large extent by the general population," Nadja Buus Kristensen, a Ph.D. student at the University of Copenhagen and a junior author of the study, said, according to the Guardian.
Lead researcher, Oluf Pedersen, and his team looked at seven studies that measured the impact probiotics — "good bacteria" thought to improve gut health and often taken in food-, drink- or pill-form — have on poop. 
They reviewed studies that included adults of almost every age (19 to 88) in groups of between 21 and 81 people, according to the Daily Beast. None were taking other supplements and none had a preexisting digestive condition. Comparing feces from people ingesting probiotic drinks, capsules and biscuits with feces from those who weren't, Pedersen and his team found that the probiotic users registered microbially improved poop in only one trial. 
The results may have been clouded by the different types of bacteria participants ingested, as well as by their individual diets. But dietary supplements, which in the U.S. aren't regulated by the Food and Drug Administration, are always of questionable efficacy. It's possible that consuming them could mitigate vaginal yeast infections, alleviate irritable bowel syndrome, combat intestinal infections and even boost the immune system, but whether or not probiotics work seems to depend on whether or not there's something there to treat.
"While there is some evidence from previous reviews that probiotic interventions may benefit those with disease-associated imbalances of the gut microbiota, there is little evidence of an effect in healthy individuals," Pedersen said, according to the Guardian.
Sorry.
Read more: Your Gross-Ass Contact Lenses Are Filling Your Eyes With Bacteria