There's a Serious Sexual Abuse Problem Going on at New England Prep Schools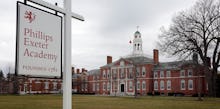 On Sunday, the Boston Globe released a chilling report detailing allegations of sexual abuse at nearly six dozen highly regarded New England private schools, where more than 200 former students say they were molested by teachers, administrators or other authority figures during their enrollment. 
According to survivors' accounts and court documents, school officials at a number of prestigious academies neglected reports of rape and other abuses of power for decades. In interviews with survivors and administrators, the Globe's Spotlight team uncovered a long-standing history of sweeping sexual abuse allegations under the rug, which the newspaper called "an echo of the Catholic church scandal." 
But it's also not dissimilar to the growing number of sexual assault reports at colleges and universities throughout the U.S. — institutions where students claim administrations not only mishandle reports of sexual violence, but go so far as to protect rapists. The narrative appears to be the same at New England prep schools like the Fessenden School, in Massachusetts, and St. George's School, in Rhode Island. 
The Globe reported that multiple school administrations left victims bereft of justice for years, and that several institutions declined to notify authorities about allegations of sexual abuse by faculty and other school staff members: 
At least 90 lawsuits or other legal claims have been filed on behalf of the alleged victims, and at least 37 school employees were fired or forced to resign because of the allegations. In addition, nearly two dozen eventually pleaded guilty or were convicted on criminal charges of abusing children or related crimes.
While colleges and universities are legally required to track reports of sexual violence on campus, private schools (and public schools, for that matter) are not; according to the report, prep schools tend to keep any reports they do receive confidential, and no database of sexual abuse at private academies exists — meaning the Globe's tally of hundreds of victims from at least 67 schools "almost certainly underestimate[s] the problem." 
It's a problem that has, evidently, been covered up for decades. According to the Globe, "It can sometimes take decades for survivors of sexual abuse to find the strength to come forward, if they do so at all" — thus many included in the report are survivors who have only recently gone public. Several of them, however, say they alerted administrators at the time of their assaults years ago, but school officials opted not to take action against accused staff members. 
In addition to allowing alleged assailants to work in other educational settings without punishment, the lack of intervention from the schools' administrators seems to have fostered a feeling of impunity — even innocence — among perpetrators. 
One former teacher at St. George's, who was accused of molesting a student at the school in the late 1960s, was also accused of making sexual advances by at least four students at another private school in Hawaii, where he later worked. But the teacher denied any wrongdoing in an interview with the Globe, claiming, "Obviously, if there had been any misconduct, given the situation in the world today, I and everyone else involved would be in jail." 
The lack of intervention from the schools' administrators seems to have fostered a feeling of impunity — even innocence — among perpetrators. 
That is, simply put, patently untrue. Rates of reporting sexual violence are notoriously low, and a mere 6% of rapists ever see the inside of a jail cell, let alone the inside of a courtroom. That seems to be especially true when sexual violence takes place within a setting like a school or church, where overarching institutional concerns — about reputation and donor contributions, or simply maintaining the status quo — can override administrators' concern for victims. It might even foster a belief that sexual violence doesn't happen there.
However, what has become clear from the apparent coverups of sexual violence within multiple institutions — the Catholic church, the military, colleges and universities and, now, prep schools — is that ignoring abuse begets more abuse. 
That sexual harassment and rape could be so rampant and widespread in private schools, which are exempt from public records requests and rest primarily on their storied reputations, should come as absolutely no surprise. Addressing systemic sexual violence at a school would require acknowledgment of the problem — and what institution is going to consider that to be in its best interest?
Turning a blind eye to systemic abuse creates a climate in which perpetrators feel safe molesting students — and clearly, teachers and other authority figures have taken advantage of institutional blindness. There's another term for climates in which sex offenders feel protected and survivors are routinely disbelieved: "rape culture."  
One of the things that reinforces a culture of silencing victims and allowing abusers to act with impunity is our persistent shock and awe that such a culture exists in the first place. Sexual violence shouldn't be an inevitability, at school or anywhere else — but it's bound to be when we assume it isn't happening at all.