Here's the Chrissy Teigen Breastfeeding Snap the World Has Been Waiting for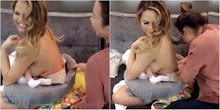 It's been nearly a month since John Legend and model/internet content machine Chrissy Teigen welcomed their daughter Luna into the world. Since then, we've gotten plenty of glimpses into Teigen's new life as a mom, from funny tweets about incontinence to cheeky li'l posts about her ginormous post-baby boobs.
What we haven't gotten yet, though, is a breastfeeding picture.
Until now!
In a Snapchat video Monday, Teigen was seen proudly breastfeeding while getting made up for a photo shoot. "Christine wears many hats," the caption read. (The many hats apparently being "model" and "breastfeeding mom," in this context.) 
Now that the thin layer of cotton that always seems to be standing between Chrissy Teigen's baby and Chrissy Teigen's nipple is finally gone, perhaps these images of a working mom breastfeeding her newborn will end breastfeeding stigma once and for all. Either way, though, many thanks to Teigen for providing us with these brief peeks into her motherhood journey!