The Kardashian Krew Is Obsessed With These Fried Armenian Pancakes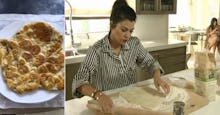 Been keeping up with the Kardashians lately? 
If not, here's a quick update: They spent their Sunday eating plenty of deep-fried, powdered sugar-coated dough.
While the news isn't quite as shocking as say, Rob's engagement to and pregnancy announcement with Blac Chyna, it's a bit surprising since the Kardashians are a pretty health-focused family. Typically their social media feeds are ripe with sister workouts and green mush smoothies. 
But even the Kardashians make room for indulgences: This past Mother's Day, the krew gathered to make "beeshee" (also referred to as "bishi"), a pancake-like Armenian speciality. (It's not entirely random: Kim, Kourtney, Khloé and Rob are of Armenian heritage on their father's side.) 
Beeshee tends to be "lighter than donuts" and more similar to a "cruller sprinkled with sugar," Robyn Kalajian, the blogger behind TheArmenianKitchen.com, wrote. Think of beeshee as an Armenian zeppoli — that deep-fried dough you find at every carnival.
The dish is customarily made with white flour, plenty of oil and powdered sugar (ingredients that are definitely not on Kanye's workout plan), but the Kardashians' version looks a little less traditional.
Kourtney and her supermodel half-sister Kendall Jenner did most of the work, though their final product looked more like a fried, oil-slicked Indian flatbread naan than conventional beeshee (hey, to each their own).
Even Kim got in on the action. The reality star said she prefers her beeshee extra crispy, as documented by the Instagram account kimmysnapchats, which saves all of Kim's Snapchats to the app.
Looks pretty tasty, no? If your mouth is watering, you might consider making your own (try this recipe). Vocal fry not required.