SeaWorld Killer Whales Will Stop Dancing, Posing and Kissing in Educational Revamp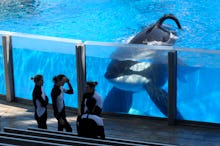 In continued efforts to rebrand itself, SeaWorld will no longer make its killer whales dance, kiss each other and pose during performance shows, SeaWorld Parks & Entertainment's CEO Joel Manby said, according to the Chicago Tribune. From now on, the theme park's killer whale shows will focus on what the animals do in the wild, such as beaching themselves when preparing to hunt, before the shows are phased out completely.
"Think of Discovery Channel, think of Nat Geo, think of a really good nature documentary that is educational but fascinating," Manby said on April 29, according to the Chicago Tribune. "It's entertaining because it's fascinating, not because they're jumping five at a time to wonderful scored music." 
Read more: One Year After 'Blackfish', Here's What's Happened to SeaWorld
The revamp to a more educational approach is in part a response to the criticism the park received following the 2013 documentary Blackfish. After the film exposed the treatment of SeaWorld's killer whales, the park promised to eventually free the whales from captivity and end the performance shows. 
Ever since the film came out, SeaWorld's attendance has been steadily declining, especially when up against competitors Disney and Universal, according to the Chicago Tribune
To replace the animal performances, SeaWorld will build new hotels and attractions to woo customers, including roller coasters. "They built their brand on Shamu and now they're phasing Shamu out," Naomi Rose, a marine mammal scientist, said, according to the Chicago Tribune. 
Manby called the decision to end the killer whale shows "gut-wrenching," according to the Orlando Sentinel. 
Currently, SeaWorld owns 29 orcas in places such as San Diego, San Antonio and Orlando, Florida. In March, the company said it was going to stop breeding killer whales.