Geraldine Roman Just Became the Philippines' First Transgender Congresswoman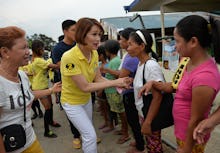 If today's election of Rodrigo Duterte — known as the Philippines' very own Donald Trump — as the country's president means backward motion for civil rights, then its election of the first transgender politician to the Philippine House of Representatives represents a step forward. In a country that has seen a rash of anti-LGBTQ violence, Geraldine Roman's sweep of the Bataan district seat is an especially encouraging win for activists in the country.
"If Jesus Christ was alive today, he would not approve of discrimination," Roman said, according to the BBC. "I firmly believe that."
As CNN reported, Roman, 49, had secured 62% of the unofficial vote after 99% of the national precincts submitted their counts. She ran a campaign that emphasized her politics over her gender, but the win is made more meaningful for the stringently Catholic country's pattern of violating the rights of LGBTQ individuals. This is the country in which senatorial hopeful and world boxing champion Manny Pacquiao openly said accepting people in same-gender relationships meant humans were "worse than animals," after all.  
In terms of qualifications, she's well-suited to the job. According to the BBC, she speaks multiple languages and had been working as an editor for a Spanish news organization before returning to the Philippines in 2012 to take care of her parents. As Mashable reported, both were politicians — her father was a congressman, and the seat she'll fill in the House was previously held by her mother. Roman, who transitioned some two decades ago, will work for equal treatment and rights for trans individuals in professional and educational spheres.
Roman's election has received widespread support on social media, one Twitter user labeled her a "hero" and a "sign of progress" in the Philippines. "Gender only becomes an issue when you try to keep it a secret," Roman said, according to the BBC. "I'm so happy so why should I be ashamed?"
Read more: Hillary Clinton Responds to Video of NYC Transgender Woman Being Attacked