South African Judge Says Rape Is a Part of Black Culture in Exposed Facebook Conversation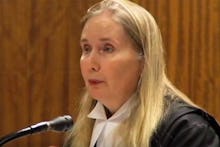 A racist Facebook conversation South African High Court Judge Mabel Jansen had last year with social rights activist Gillian Schutte was publicly posted by Schutte on Saturday, according to the Independent, and has led to a complaint being filed to South Africa's Judicial Service Commission.
In the Facebook exchange, Jansen said that rape is a part of black culture. "In their culture a woman is there to pleasure them," Jansen wrote. "Gang rapes of baby, daughter and mother is a pleasurable pastime," she added. She also said that she still has yet "to meet a black girl who was not raped at about 12."
Schutte's reasoning for posting the conversation is to show how systemic racism still is in a "post-liberation South Africa," which stems from "colonial tropes" that "undermine black movements and individuals who pose a threat to the status quo ... to the detriment of women who are victims of rape," according to her post. 
On Sunday, Jansen defended herself on Twitter, saying that what she "stated confidentially to somebody in a position to help has been taken completely out of context and referred to specific court cases." But Schutte said in her Facebook post it was an "inboxed version" of what Jansen already said in a public Facebook discussion.
A petition to remove Jansen has been circulating online, and #MabelJansen has become a trending hashtag in South Africa, according to the BBC. 
"Her comments made on Facebook where she claims that the rape of young children is part of black culture, are purely racist and misrepresentation of facts about black culture," the ruling African National Congress' women's league said in a statement, according to the Independent. 
Following the complaint, the Judicial Service Commission will execute an investigation to see if Jansen's comments breach her judicial oath, the Independent reported. 
Read more: A Province in South Africa Is Awarding Women Scholarships Based on Their Virginity