5 Female Celebrities Who Took a Powerful Stand for Their Post-Pregnancy Bodies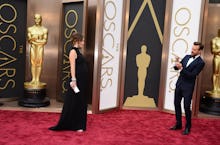 Jordan Strauss/AP
Society's infatuation with policing the bodies of women does not end with pregnancy — in fact, it becomes viciously worse after birth, with many women experiencing criticism for their post-pregnancy weight almost immediately after having their newborn. 
Such jabs are not only offensive and hurtful — they miss the point of what pregnancy should be about: bringing a child into the world and raising them to be quality contributors to society ... and not judgmental trolls. 
Check out some of the celebrity moms who have spoken out against the hateful rhetoric, and are instead promoting post-partum body positivity:
Olivia Wilde
Actress Olivia Wilde admitted her stomach looked like a "partially-deflated pool toy" shortly after giving birth and was quick to shut down anyone judging the shape of her body in her post-pregnancy cover story for Shape magazine, good or bad: 
"I am not in perfect shape," Wilde told the magazine. "In fact, I'm softer than I've ever been, including that unfortunate semester in high school when I simultaneously discovered Krispy Kreme and pot. The photos of me in this magazine have been generously constructed to show my best angles, and I assure you, good lighting has been warmly embraced. The truth is, I'm a mother, and I look like one."
Jennifer Garner
Though Jennifer Garner and her former husband Ben Affleck stopped having children after their third-born, the actress continued to receive a plethora of rude comments online, speculating on whether she was again pregnant. Garner used an appearance on Ellen to silence her critics, telling Ellen Degeneres she's perfectly content with how she looks. 
"I asked around and apparently I have a baby bump, and I'm here to tell you that I do," Garner told the daytime talk show host. "From now on, ladies, I will have a bump, and it will be my baby bump."
"It's not going anywhere," she said. "Its name is Violet, Sam and Sera."
Chrissy Teigen
Chrissy Teigen, Sports Illustrated swimsuit model and wife to John Legend, is already one of the most outspoken celebrity mothers. The ever-candid social media personality has a knack for shutting down her naysayers, and since giving birth she has increasingly used her platform to focus on post-partum issues. 
From wearing adult diapers after giving birth to ripping her new clothes thanks to her expanding bust size, nothing is off the table when it comes to what Teigen will share with her fans. 
But perhaps her biggest stand in a society forcing pregnant women and mothers into silence is speaking out about the issues that affect women like her.
Kelly Clarkson
American Idol winner Kelly Clarkson faced plenty of harsh criticism over her weight after the birth of her first child. In April 2015, she told Redbook, "I don't obsess about my weight, which is probably one of the reasons why other people have such a problem with it,"  the singer told the magazine.
"There are just some people who are born skinny and with a great metabolism – that is not me. I wish I had a better metabolism. But someone else probably wishes they could walk into a room and make friends with everyone like I can. You always want what someone else has."
Kim Kardashian West
Reality star and entrepreneur Kim Kardashian West didn't hold anything back when calling out those who attacked her for her desire to lose her pregnancy weight after giving birth to her daughter North and son Saint. In both instances, Kardashian West faced the same critiques mothers of all sizes do after birth — no matter how they look, no weight is considered appropriate: either a woman doesn't care for her child and instead spends her time (and money) losing weight, or they don't work out enough and look as though they're still pregnant. 
Kardashian West was noticeably infuriated by a commenter who suggested she used liposuction to quickly shed the pounds after her second childbirth, replying, "You miserable troll!"
"I work my ass off and have been dieting for months!" Kardashian West shot back. "I have such pride in my post-pregnancy weight loss game. 50 pounds down as of today and 20 more to go! Just wait for my next nude shoot, you'll see no tummy tuck/lipo scars! Let's see your body hiding behind your private account!"
The comment Kardashian West replied to has since been deleted, along with the user. Which just goes to show, mothers might truly be the greatest forces to be reckoned with.
Read more: Kim Kardashian Shuts Down Troll Who Tried to Shame Her Post-Pregnancy Weightloss Journey