The New Trailer for 'Orange Is the New Black' Shows Litchfield Prison at Its Darkest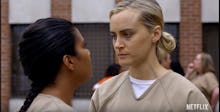 At the end of season three of Netflix's acclaimed dramedy Orange Is the New Black, we left Litchfield Prison in a state of uncertainty. The final scene shifts from the prisoners enjoying a momentary escape from the daily grind behind bars in the lake next to the prison, while new prisoners are marched into Litchfield. 
Now, if the season four trailer is any indication, the tensions between the new inmates and the old are going to lead to some intense confrontations. 
As the trailer highlights, in season four, Litchfield has become a for-profit prison, and the influx of inmates has everyone feeling like they're being packed in like "sardines" — all the more concerning when tensions run high. Take this brief interaction between Maria Ruiz (Jessica Pimentel) and Piper (Taylor Schilling). Unsurprisingly, it looks like Piper has pissed someone off, again.  
Even with the palpable tension, however, the inmates also haven't lost their sense of humor. Taystee (Danielle Brooks) is adjusting to her new prison job as secretary for Caputo (Nick Sandow), with... mixed results.
While season four might be the series' darkest yet, we still can't wait to start binge-watching on June 17. You can check out the trailer for season four of Orange Is the New Black below: 
Read more: What Netflix's 'Orange Is the New Black' Gets Wrong About Female Prisons