West Virginia Democratic Primary 2016: Bernie Sanders Scores Victory over Hillary Clinton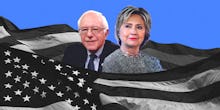 Bernie Sanders defeated Democratic presidential frontrunner Hillary Clinton in the West Virginia primary Tuesday, an outcome that won't halt Clinton's march to the nomination but underscores the persistent resonance of Sanders' inequality-focused campaign.
The Associated Press called the race for Sanders at 9:24 p.m. Eastern:
Coal Country, not Clinton Country: The Vermont senator's victory comes one week after he upset Clinton in the Indiana primary, and follows weeks of raging controversy over the former secretary of state's statement that she would put much of the coal industry "out of business."
Clinton later sought to clarify those comments, but in the coal-loving Mountain State, the damage was done. Though Sanders' policies are no less antagonistic to the industry than Clinton's, he may well have benefited from protest votes against the former secretary of state, who in the administration of President Barack Obama — a widely reviled figure in West Virginia, even among many Democrats.
Read more: Here's the One Number That Objectively Proves Bernie Sanders' Presidential Campaign Is Over
Notably, exit polling found that 44% of Sanders' voters in the state would back presumptive Republican nominee Donald Trump in the general election, against 23% who'd pull the lever for Clinton. But nearly 2 in 5 Sanders voters said Tuesday they'd also back Trump over Sanders himself.
While many West Virginia Democrats may have simply wanted to send Clinton a message, Sanders' populist pitch on income inequality and combatting the political establishment has gained traction with many working-class whites, who account for much of the West Virginia electorate. Those voters backed Clinton over Obama in the 2008 primary, but have proven a less reliable constituency this go-around.
The fundamentals: Still, Clinton is firmly on track to secure the 2,383 delegates needed to win the Democratic nod. Heading into Tuesday's vote, she had won 2,228 delegates to Sanders' 1,454 — meaning she only needed to win about 14% of the remaining delegates up for grabs to prevail.
With only 29 proportionally allocated pledged delegates at stake in West Virginia, Sanders' win won't move the needle — but it could be part of a May winning streak for him. His victory is a good omen for his chances in Kentucky, which votes May 17, and he is favored to win progressive-leaning Oregon the same day.
Sanders has vowed to remain in the race until all votes are cast. The final primaries come on June 7, with California the big prize.