Kaley Cuoco Just Proved the Value of an Ironclad Prenup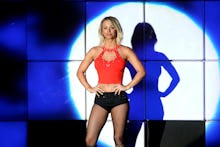 Actress Kaley Cuoco just schooled us all on how to handle divorce like a boss. The 30-year-old Big Bang Theory star split from tennis player Ryan Sweeting in September, after 21 months of marriage. The two were enmeshed in a legal battle for several months as Sweeting fought for spousal support. 
Cuoco, who earns $1 million per episode for Big Bang Theory and has an estimated net worth of $45 million, is one of television's highest paid actresses. But her ex-husband won't be reaping the rewards: Thanks to Cuoco's prenuptial agreement, he'll only be getting $165,000 in the divorce, plus up to $55,000 for his legal fees and an additional $9,387 for outstanding legal fees connected to the prenup.
Cuoco isn't the only woman protecting her assets with a prenup. Millennial women across the country are flocking to sign a prenup before they tie the knot. In a 2013 survey by the American Academy of Matrimonial Lawyers, 63% of divorce attorneys said they've seen a rising number of in prenups, while 46% of lawyers also noted an increase in women initiating the requests for prenup agreements. 
Yet there's still a stigma attached to prenups, especially for successful women. In a column for the Telegraph, Louisa Peacock bemoaned the "sorry state" of women becoming increasingly interested in prenups, saying it spoils the romance of marriage. 
But a prenup isn't just a preemptive plan for divorce, nor is protecting one's financial security merely a luxury for wealthy celebrities like Cuoco. According to a 2014 survey by the Allstate Foundation, divorced and separated women are most likely to suffer financial abuse at the hands of their former spouses, which can entail anything from running up debt in the partner's name to using mutual assets as pawns in emotional blackmail.
One of the most common reasons women around the world stay in disempowering marriages is because they lack the financial means to leave. For this reason, having a solid prenup is a good way to avoid financial conflict and protect oneself from potential abuse, as well as a way for women to feel confident by taking financial planning into their own hands.
Despite all the turmoil with her ex-husband, Cuoco was all class when she was asked about the divorce on CBS This Morning. "I'm not ashamed of anything that happened," she said. "I wouldn't call it a mistake. It just is what happened in my life and so I'm excited to see what the future holds." It's not hard to see why Cuoco is so optimistic: She's a success story for divorced women eager to regain their freedom, as well as a testament to the value of an ironclad prenup.