The EU-Turkey Refugee Deal Disappoints Yet Again After Non-Syrians Are Denied Asylum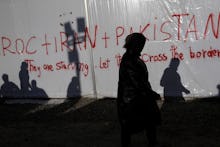 An independent delegation of three Members of the European Parliament went to Turkey to assess operations under the terms of the new controversial European Union-Turkey Refugee Deal, according to their report published Tuesday.
The three MEPs, members of the European United Left/Nordic Green Left, visited "removal centers" in the northern part of the country, near the Bulgarian and Greek borders. 
"Everyone who is not Syrian or Iraqi is immediately sent back regardless of their situation, in clear violation of the principles laid down in the Geneva Conventions," Marina Albiol Guzmán, Spanish MEP and one of the three delegates, wrote in their assessment. 
"Turkey has been hired as a deportation agency, putting into practice the migration policies designed in Brussels," Guzmán added. "Their main goal is to return people back to the areas from which they have fled, even if they will face extreme peril in countries such as Afghanistan or Yemen."
"Turkey has been hired as a deportation agency."
The EU-Turkey deal, finalized March 18, has had human rights activists concerned from the start. On April 1, Amnesty International issued a damning press release, which warned the deal could be a violation of international law. The organization said Turkey was enforcing "large-scale forced returns of [Syrian] refugees" to their war-torn country of origin. 
"Far from pressuring Turkey to improve the protection it offers Syrian refugees, the EU is in fact incentivizing the opposite," John Dalhuisen, director of Europe and Central Asia for Amnesty, said in the release. 
The deal's weaknesses are not exclusively calculated — some asylum requests didn't get processed simply because officials in Greece "forgot" to, according to Vincent Cochetel, Europe bureau director of the U.N. refugee agency. This revelation came just days after Amnesty's revelation regarding Turkey's forcible expulsion of Syrian refugees.
The MEPs report comes as part of a deluge of criticism and concern over the deal, leaving many wondering if international censure will pressure involved parties to amend the terms. However, neither the EU nor Turkey has given any indication they are open to overhauling the agreement. 
Read more: Refugees Say They'd Rather Commit Suicide Than Face Deportation Under the EU-Turkey Deal