Budweiser Changes Name to America, Because We All Need a Drink This Campaign Season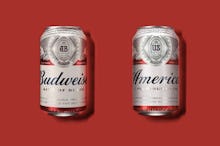 Budweiser, one of the most popular beers in the United States, will rename itself "America" in a baffling tribute to the 2016 presidential campaign. Yes, you read that right: the beer created by Belgian international corporation Anheuser-Busch InBev will honor the tumultuous civic journey to the presidency through a temporary rebranding that will last through the summer.
"We thought nothing was more iconic than Budweiser and nothing was more iconic than America," Tosh Hall, creative director at branding firm JKR, told Co.Design. While the cans look similar at first glance to Budweiser's traditional look, the entire packaging has been given a redesign.
Read more: Meet the Ex-Mormon Designer Who Wants to "Make America Femme Again"
The slogan "King of Beers" has been changed to "E Pluribus Unum," "The World Renowned" changed to "Land of the Free" and "Anheuser-Busch, Inc." has been updated to read "Liberty & Justice For All." Even legalese like "Trademark" was changed to "Indivisible," and "Registered" changed to "Since 1776."
The cans will return to their original packaging after November, but anyone who's been following this headache of a primary season will probably agree that a drink is something we'll all be needing soon.