Is Facebook Censoring Conservative News? US Senators Demand Answers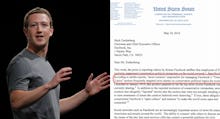 For the past 24 hours, the political news cycle has been grappling with one question: Is Facebook censoring conservative media?
Former Facebook employees who were brought in to work on the trending news section anonymously told Gizmodo that they were directed to scrub stories about people like Mitt Romney and Rand Paul from trending news and often inserted, for example, news stories about the Black Lives Matter movement artificially into the news feed. Facebook totally denied the claims of the story, calling it "junk."
Now the federal government is stepping in. The Senate Committee on Commerce, Science and Transportation released a letter addressed to Facebook CEO Mark Zuckerberg on Tuesday. The Committee demanded answers to a number of questions, including whether Facebook news curators manipulated the trending news section and, if so, whether Facebook can provide records of what was censored.
"The ability to connect with others to discuss and debate the issues of the day that such services offer has created a powerful platform for civic engagement," reads the letter, signed by Republican committee chairman John Thune. "Indeed, with over a billion daily active users on average, Facebook has enormous influence on users' perceptions of current events, including political perspectives."
Republicans are pissed. And they should be. Facebook is one of the most powerful engines for political news; a Pew Research study from 2015 shows that 61% of millennials get their political news from Facebook on a weekly basis.
Whether or not you care for conservative-interest news, the idea that Facebook could make certain ideas vanish from the News Feed while artificially inserting others is cause for concern. The allegations — that this is something they've been doing for years in secret — is downright scary.