2016 West Virginia and Nebraska Republican Primaries: Donald Trump Wins Two More States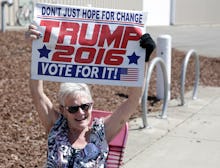 Donald Trump cleaned up Tuesday in the West Virginia and Nebraska Republican primaries — not exactly a shocker, since he's the only Republican still in the race for president.
The Associated Press called the races for Trump when polls closed at 7:30 p.m. Eastern in West Virginia and 9 p.m. Eastern in Nebraska:
Trump's closest rival for the nomination, Texas Sen. Ted Cruz, suspended his campaign a week ago after a punishing loss in the Indiana primary. It was Cruz's seventh consecutive defeat to Trump.
The third man left standing, Ohio Gov. John Kasich, quickly followed suit, hanging up his White House bid the following day.
Ahead of the votes in West Virginia and Nebraska, Trump had amassed 1,068 of the 1,237 delegates he needs to win the GOP nomination. Cruz had 564 and Kasich had 153.
Nebraska has 36 delegates at stake; West Virginia, 34.
Even in limited polling of West Virginia, RealClearPolitics data showed Trump with a seemingly insurmountable 35.5% lead on average. Trump took the unusual step of telling Mountain State voters they didn't have to bother showing up for Tuesday's primary — even with other competitive races on the ballot.
While Trump's victory was all but assured, analysts will surely watch turnout rates and protest votes for candidates no longer in the running as a gauge of the presumptive nominee's ability to pull together a fractured GOP.
Despite having suspended his campaign, Cruz said Tuesday on Glenn Beck's radio program he was open to getting back into the fray if he carried Nebraska and could see "a path to victory."
He later told a Washington press scrum he still didn't see himself winning the Cornhusker State — and had no desire to launch an independent campaign for the presidency.
That might be a smart call.
An ABC News analysis of preliminary exit polling showed, er, huge excitement among GOP voters about a Trump presidency, and "9 in 10 in West Virginia, and more than 8 in 10 in Nebraska, think it's likely Trump would beat Clinton in November."
Those early exits had more good news for Trump, who as presumptive nominee is now charged with putting the fractured Republican Party back together after a vicious primary.
"In a Trump-Clinton matchup, 9 in 10 in West Virginia and 8 in 10 in Nebraska say they'd vote for Trump; nearly all the rest say they'd sit it out," ABC News said. "That's much greater the unity on the Republican side than seen previously."