Brazil Olympics Big Drama: Will Political Acrobatics Allow its President to Stay in Power?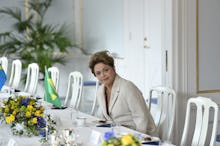 The drama that follows Brazil's politics is of Shakespearean proportions. Each player appears more mired in scandal than the last, making it comically difficult to keep track of. Add to that an ever-nearing Summer Olympics and the eyes of millions, and you have a situation deserving of its own Tony category. 
On Monday, two days before the senate was expected to pass an impeachment motion against President Dilma Rousseff for violating budget laws, acting speaker of the lower house Waldir Maranhão announced the house's April 17 vote to impeach was annulled, citing technicalities. By Tuesday, after producing political outrage, Maranhão took back his declared annulment.
"The surprise move [to annul] — which was immediately challenged by senior figures in the senate — provided an absurd twist in the country's ongoing political drama that would stretch the credibility of a House of Cards plot," the Guardian's Jonathan Watts quipped. 
The senate, comprised of 81 seats, will need a simple majority (41 votes) to pass the motion, which many predict will not be difficult. Rousseff would then be suspended for 180 days while the chief justice leads the senate in an assessment of the allegations to decide if they're impeachment-worthy. 
Maranhão, who is himself under investigation for corruption, only became speaker on May 5 after the supreme court ruled to suspend his predecessor, Eduardo Cunha, while Cunha is investigated for abusing power, intimidation, obstruction of justice and corruption. Cunha has been one of President Rousseff's most vocal critics. 
In light of Maranhão's backtracking on the impeachment process' annulment, Brazilian Attorney General Eduardo Cardozo, on behalf of Rousseff, asked the Brazilian supreme court Tuesday to annul the impeachment proceedings, less than 24 hours before the senate is due to vote. 
In this case, Vice President Michel Temer would assume Rousseff's role until the investigation is concluded and, if Rousseff is officially impeached, he would remain president until the next general elections. 
To complicate matters (because matters are not complicated enough) Rousseff and Temer had a falling out on March 29, when his Brazilian Democratic Movement Party decided to splinter off from Rousseff's ruling coalition, creating a separate faction. 
Former Supreme Court Chief Justice Joaquim Barbosa is not impressed and used Twitter on Monday to advertise his discontent. "You know what the whole world should be thinking about us, Brazilians? 'Laughingstock.' Many must be thinking [it] ..." his tweet read, translated from Portuguese. 
The epic, dramatic and volatile nature of this ordeal means Rousseff's fate isn't necessarily sealed. But it isn't looking good for her.