Chicago High School Sends Every Graduate to College for the 7th Year in a Row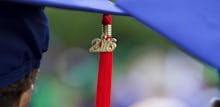 The entire graduating class of Chicago's Urban Prep Charter Academy is going to college.
For the seventh year in a row.
The school has sent 100% of its students — all black men — to college since it was founded in 2006. 
This year, the students are off to prestigious universities, including Georgetown, Yale and more than 200 other schools.
"The energy surrounding the movements behind the phrase 'Black Lives Matter' is the same energy that emerged from this very community to found Urban Prep Academies and open the first school right here," Urban Prep's founder and CEO Tim King said at a public announcement about the school sending all of its 2016 graduating students to college. 
"It's a great day," graduating senior Rudolph Long, who's attending Hampton University in the fall, told CBS Chicago. "I feel great. We all made it. We all come from good environments, so to see us all going to college is nice."