7 Things to Worry About More Than Transgender People in a Bathroom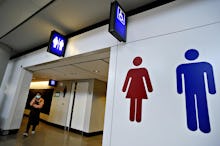 If you believe the North Carolina legislature, then the No. 1 threat that stands between people and their peaceful trips to the restroom is a transgender person in the next stall. 
That fear — and the issue of privacy — led to the passage of North Carolina's controversial House Bill 2, which requires people to use the restroom that matches their gender assigned at birth and not their gender identity. There are zero reported instances of transgender people attacking others in bathrooms.
The reality is there are many more things you should worry about in a bathroom than whether there's a trans person in it. Here are just a few:
1. A wide stance
In August 2007, according to Time, reports surfaced that Idaho Sen. Larry Craig pleaded guilty to a misdemeanor charge of disorderly conduct after, the police report said, he tapped his foot under the stall of another man's toilet stall — a sign he was looking for sex with the stall's occupant. In Craig's case, the man in the stall next to him was an undercover officer. Craig claimed he just had a "wide stance when going to the bathroom," according to a Washington Post story at the time.
2. A hypocritical politician with a $20 bill
Worried about who is lurking in the bathroom? Don't worry about a trans person trying to pee in peace. Worry instead about people like Florida State Rep. Bob Allen, who solicited an undercover officer for oral sex for $20 in 2007, the Orlando Sentinel reported at the time. Allen — who ended up paying $250 in fines, according to AlterNet — sponsored a "lewd and lascivious exhibition" bill prior to the incident. 
3. A horny football player
In 2010, a college student accused NFL star Ben Roethlisberger of approaching her with his penis exposed in a Georgia bar, according to the Smoking Gun. According to her testimony, he allegedly forced himself onto her in a bathroom, even though she said it was "not OK." Roethlisberger did not face criminal charges.
4. A belligerent 49ers fan 
Two men were arrested in October 2014 after allegedly beating a man in a bathroom at San Francisco 49ers' Levi's Stadium, according to ABC7. Just goes to show: Cisgender-on-cisgender crime needs to be addressed. 
5. A racist message 
Not even a peaceful trip to the bathroom is free from racism. In February, University of Colorado Boulder students shared photos from a campus bathroom depicting a stall with the messages "KKK" and "Fuck colored people!" written on the wall, according to the Daily Camera. The message "Go Greek! Go rape!" was beneath it. 
6. A hidden camera
Bathrooms remain one of our last vestiges of privacy — so we think. In May 2015, in Washington state, police said a manager at a pawn shop in Tukwila admitted to setting up a camera phone to record employees in the restroom, according to KIRO 7. In July 2014, in Ontario, California, a woman sued her employer for managers allegedly filming female employees in the restroom without their knowledge, according to NBC Los Angeles.
7. A lack of soap 
A threat to all humankind lurks in every bathroom: communicable disease. Luckily, an antidote exists: hand soap. If there's a law to be passed, a requirement that hand soap dispensers remain filled would be an easy way to fight diseases like hand-foot-mouth disease and hepatitis A. 
Clearly, in a world full of germs and bad politicians, we should wash our hands clean of transphobia.