This Guy Taught Siri How to Make a Cup of Coffee and You Can Too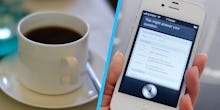 Just because Siri doesn't have hands, that doesn't mean she can't brew you a cup of coffee. 
With about $150 in supplies, you can power your coffeemaker by telling Siri "good morning," as shown in a video uploaded to YouTube; this command also turns on the lights. Nothing like the sweet smell of automation in the morning. 
Remember the Disney Channel Original Movie Smart House? This guy made his own.
This bargain smart home is made possible thanks to a Raspberry Pi 3, a few smart LED bulbs, duct tape, a smart socket, some coding and tinkering and an open-source home automation platform — meaning you can customize what "good morning" means to you. Maybe it's illuminating your tiny-ass apartment kitchen and powering up the Keurig machine; maybe it's projecting a B*Witched music video onto your bedroom wall. C'est la vie.
Or maybe you want Siri to help you slam dunk da funk.
The smart-home-on-a-budget demo also features an "emergency party mode." The user tells Siri to "Start a party quick," triggering the lights to dim and change color play "What Is Love." Also, romance mode — activated by saying "big time sexy vibes time" — makes the lights red and plays "Sexual Healing" on the speakers. Sexy vibes. Big time.