Here Are 100 Queer and Trans People of Color for Gay Magazines to Put on Their Covers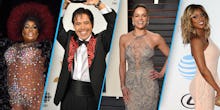 Him? Again?
Yes, Nick Jonas is back on queer newsstands, talking about his "complex world," which is apparently worthy of yet another cover story in one of the most established gay publications in the United States.
By itself, the Out magazine cover shouldn't surprise anyone. Jonas has become a vocal ally of the gay and lesbian communities, to the point where he's had to explain that he's not queerbating the community, a perfect example of the progressive straight male culture we should be celebrating. Yet mere weeks after the #GayMediaSoWhite controversy erupted online, this cover is also an example of a prominent straight white male ally getting a plum spot on the cover of a magazine that should, in theory, be championing the work of queer artists.
Landing a cover on magazines like Out or Instinct is contingent on the work of publicists and editors, dependent on schedules and availability and no doubt influenced and guided by an economy that still unfavorably favors straight white males. These circumstances in mind, putting Jonas on the cover is an easy choice. But said choice also highlights how the established gay print media, beholden as it is to mainstream capitalist economy, disavows the very community to which it is catering.
Read more: 100 Queer Characters of Color Who Show Why Hollywood Should — and Must — Diversify
Consider the list below an ongoing reminder of the people of color who have and will continue to nourish the LGBTQ artistic communities and who deserve the spotlight as much as the next biceps-toting, white, straight ally. That these names also push the "diversity" banner in terms of body image, age, sexual proclivities and politics speaks to how several other issues of visibility and representation go beyond mere skin color.
Jussie Smollett, actor (Empire, The Skinny)
The breakout Empire star is ready-made cover material — look no further than Out's March 2016 issue. Plus, his is a name many would likely pluck as a perfectly palatable alternative to any of the straight ally mainstays of the gay mainstream media establishment. With a role in the upcoming Alien: Covenant movie, and Empire still going strong, we hope to see plenty more of this talented performer.
Frank Ocean, singer (Channel Orange)
With the impending release (we hope) of a follow-up to the critically acclaimed Channel Orange coming soon, one hopes that the LGBTQ media that so fawned over the singer-songwriter back when he stealthily came out will embrace and give him the exposure he deserves.
Laverne Cox, actress and activist (Orange Is the New Black, Grandma)
Given Laverne Cox graced the cover of Time magazine back in June 2014 (and many other esteemed publications since), putting her on this list seems rather unnecessary. Yet you'd be hard-pressed to find anyone who'd complain should the Orange Is the New Black star continue to be a mainstay on our newsstands, considering how articulate she can be in interviews and how fabulous she can be in front of the camera.
RuPaul, supermodel of the world (Starrbooty, RuPaul's Drag Race)
With a long-running reality TV show competition, a book, a successful DragCon and a new game show, RuPaul is experiencing one of the best years of his career. No wonder she looked so excited on the cover of Attitude's April 2015 issue. She remains one of the most visible and easily recognizable faces of the LGBT communities and is, without a doubt, the most well-known drag queen in the world.
Bob the Drag Queen
More than any other show, RuPaul's Drag Race has showcased perhaps the more diverse queer lineup in reality television history. If the photoshoot challenges of the Logo TV series have taught us anything, it's that these fierce queens can definitely serve some face. How fantastic would it be to see some of your favorite drag queens given the cover mag treatment? Thus far, the only Drag Race alumnus to be given a cover in a mainstream gay magazine is Sharon Needles, who was featured as part of the Out 100 in 2012.
Ricky Martin, singer
A fixture in People en Español's Most Beautiful People list, the "Livin' La Vida Loca" singer needs no more press, but given the choice between more white straight allies who gaybait for a living and another Ricky Martin cover story about his life as a gay dad, we don't think many of us would find fault in choosing more press on the Boricua singer.
Mykki Blanco, music artist
Mykki Blanco — a rapper, performance artist, poet and activist — was one of the more vocal detractors of what she's seen as the whitewashing of the gay mainstream media, calling out Attitude magazine in a tweet that pointed out the lack of diversity in its most recent covers ("How can you see this shit and feel 'a part of the community' or even progressive?" she tweeted). What better way of addressing the problem head-on than to feature this forward-thinking, genre-busting artist on the cover of the "gay media establishment" herself?
Le1f, rapper
Like Mykki Blanco, Le1f is often cited as an artist to watch; 2015's Out 100 list called the rapper's Riot Boi album "one of this year's most promising debuts." One hopes his profile keeps growing so he can soon find himself not just singled out in a list that more often than not stretches itself to be more inclusive than the gay magazine's covers suggest, but squarely at the center of his very own cover story.
The Tangerine girls
Kitana Kiki Rodriguez, actress
Arguably two of the biggest trans breakout stars of 2015, the Tangerine duo got their fair share of press last year, having being interviewed and profiled all the way from Sundance Film Festival in January 2015 to the Independent Spirit Awards in February 2016. How no one thought to pair them for a kickass cover story is beyond us. Perhaps Mya Taylor can nab one when her passion project Happy Birthday, Marsha — based on Marsha P. Johnson, the gay rights pioneer — comes out sometime later this year.
Lee Daniels, director and producer (Precious, The Paperboy, Empire)
Unlike most of the behind-the-cameras talent listed here, Lee Daniels has managed to become a nationally recognized name. He has the Fox juggernaut Empire to thank, though his Oscar-winning Precious and his Oprah Winfrey-produced Lee Daniels' The Butler surely helped pave the way. If nothing else, Daniels is a perfect example of a powerful media figure breaking new ground and breeding new diverse talent on screens both big and small.
Tituss Burgess, actor (Unbreakable Kimmy Schmidt)
Tituss Burgess, who finally found a role worthy of his talents in Tina Fey's Netflix comedy Unbreakable Kimmy Schmidt, is a bonafide star who even has his own brand of wine (Pino by Tituss, of course). He's a fabulous stage actor and a brilliant comedian, so what does he have to do to nab a national magazine cover? Here's where the conversation hinges not only in terms of race or ethnicity, but in terms of what kind of body image gets promoted on gay magazines.
Samira Wiley, actress (Orange Is the New Black)
Given her natural beauty and poise (not to mention her standout talent, as shown by her Screen Actors Guild award-winning work on Orange Is the New Black), it's not surprising Samira Wiley found herself on the cover of the 2014 Out 100 issue. As she keeps finding more work and bigger platforms, one hopes we'll see more of Wiley in our newsstands.
André Leon Talley, former editor-at-large for Vogue
Why wouldn't you want to showcase the fabulousness of André Leon Talley, especially since he's been credited with introducing Michelle Obama to a newcomer by the name of Jason Wu (also on this list)? His is a career and personal story worth celebrating.
Janet Mock, activist
We shouldn't reduce Janet Mock to just her beauty — her personal memoir Redefining Realness: My Path to Womanhood, Identity, Love and So Much More and her activism speak for themselves, attesting to the intellect and passion behind her advocacy. But there's no denying Mock would kill it in a solo cover shoot. Exhibit A: the gorgeous photo that graced the cover of ElixHer Magazine for the spring/summer 2014 issue.
Jay Kelly
The transgender son of singer R. Kelly — already disparaged by his famed dad — may be more tabloid fodder than cover story. Yet clearly, it's the personal hook that such a story tells about trans individuals.
Jin Tai, Misster lead singer
At age 32, Jin Tai, the former lead singer of the pop group Misster, became the first out pop singer in Taiwan — precisely the type of button-pushing, pride-waving artist we've long been encouraged to champion.
Lena Waithe, writer actress (Master of None)
If you binge-watched Aziz Ansari's buzzy Netflix series Master of None, you're no doubt already familiar with Lena Waithe, who plays Dev's friend Denise. What you may not know is that Waithe also produced Justin Simien's Dear White People and has written and appeared in various series, including Twenties and Hello Cupid. She's the type of all-around talent that we should be wanting to hear more from.
Zebra Katz, rapper
The "Ima Read" singer, part of the queer hip-hop scene, is heavily influenced by LGBT ball culture — no surprise considering that single is an explicit evocation of Paris Is Burning. He's opened for the Scissor Sisters, and it's just a matter of time before he (hopefully) makes it big.
Meshell Ndegeocello, singer-songwriter
An accomplished musical artist (with 10 Grammy nominations to her name), Meshell Ndegeocello has blended her musical output with advocacy work, raising money for AIDS organizations and collaborating in the Raise Hope for Congo compilation. An out bisexual, she may not be as well-known to many outside the neo-soul scene, but her voice is as vital and powerful as ever.
Alec Mapa, comedian and actor (Half and Half, Ugly Betty, Transamerican Love Story)
You may know Alec Mapa from his hilarious turns in Ugly Betty (as Suzuki St. Pierre) and Desperate Housewives (as Vern). The actor also recently turned his quest to become a father into a hilarious special titled Alec Mapa: Baby Daddy. A consummate character actor who's made a career of enlivening even the most clichéd bit roles, Mapa is a testament to those working actors who have made opportunities for themselves and strengthened the community with their open support and advocacy.
Bai Ling, actress (Anna and the King, The Crow)
The famous Chinese actress has spoken openly about her bisexuality, even as she's better known for her personal life than for her acting work. Nevertheless, she's been busier than usual starring in more than seven films since 2015. Might we call it a comeback?
Michelle Rodriguez, actress (The Fast and the Furious, Machete, Avatar, Girlfight)
One of the most successful Latina actresses around, Michelle Rodriguez, identifies as bi. She's often had her personal life overshadow her talent and her involvement in impossibly successful franchises. Perhaps she can nab another cover later this year when her upcoming film, the sure-to-be-eyebrow-raising Tomboy, a Revenger's Tale, arrives?
B.D. Wong, actor (Law and Order: Special Victims Unit, Jurassic Park, Jurassic World)
This Tony award-winning actor is having a great career moment: Just in the past year he reprised his role as Henry Wu in Jurassic World, had a recurring role in USA's Mr. Robot and appeared in the Batman spinoff series Gotham as Hugo Strange, all while being named artist-in-residence at the La Jolla Playhouse. In a time when we keep demanding more Asian-American media visibility, why not champion the established career of Wong in magazines that bill themselves as representing our community at large?
Mike Ruiz, photographer and model
More likely to be found behind the camera, celebrity photographer Mike Ruiz (whom RuPaul's Drag Race fans know well) would make quite a handsome cover boy who would no doubt bring the "pretty, masculine" brand he's come to embody to mainstream mags.
Todrick Hall, YouTuber and singer
The former American Idol contestant has made a name for himself as an all-around entertainer. It's how he's amassed over 2 million YouTube subscribers, becoming one of the many pioneers of a new media landscape that shows us where celebrity culture might be headed.
Jai Rodriguez, actor and reality star (Queer Eye for the Straight Guy)
It's been a while since Queer Eye for the Straight Guy inadvertently became the poster-show for the straight commodification of gay men's sensibilities. That show's "culture guide," Jai Rodriguez, is ready to take on quite a busy year. After performing his cabaret act Tales of an Aging Twink in San Diego, he's a guest star in Netflix series Grace and Frankie's second season, suggesting perhaps his career is about to hit comeback mode — a perfect excuse to drum up more PR for the actor.
Maulik Pancholy, actor (30 Rock, Whitney)
Known for his breakout role as Jonathan, Jack Donaghy's assistant on 30 Rock, Maulik Pancholy was already well-known in the LGBT communities, having played Sanjay Patel on Weeds. That he's also an accomplished voice actor who currently headlines Nickelodeon's Sanjay and Craig should remind us he's carved out a niche for fascinating Indian-Americans on television.
Jonny Beauchamp, actor (Stonewall)
Called "fall's breakout" star by Out magazine itself, Jonny Beauchamp might be one of the few people involved with Stonewall who emerged (mostly) unscathed. The Puerto Rican actor has also earned raves for his performance as Angelique in the camptastic Penny Dreadful. Indeed, he's the type of young, up-and-coming actor who would make a perfect cover — were he given a chance.
Gregg Araki, director (Kaboom, Mysterious Skin)
One of the great directors of the New Queer Cinema of the 1990s, Gregg Araki has given us plenty of deliciously button-pushing flicks including The Living End and Totally Fucked Up. Tackling taboo issues and raunchy sexuality has perhaps kept him at bay from the mainstream. His most recent projects, though (White Bird in a Blizzard with Shailene Woodley and Eva Green, as well as an episode of American Crime season two) suggest he's never been more primed to earn more widespread recognition.
Robin Roberts, newscaster
Robin Roberts, well-known as one of the anchors of ABC's Good Morning America, needs no introduction. The newscaster, who came out publicly in 2013, has received her fair share of press, mostly in connection to her public discussion of having cancer. Yet she's rarely been given much ink in the LGBT press despite being one of the most visible members of the communities.
Pedro Almodóvar, director (All About My Mother, Volver)
The famed Spanish director made a big splash in the American LGBT press in the mid-1990s. Yet in the decades since, he's mostly been relegated to glittery Spanish mags and stateside prestige film journals. How refreshing would it be, though, to see the auteur director grace the cover of magazines — the same that more often than not feature young men who could be Pedro Almodóvar's grandchildren?
Patrik-Ian Polk, director (Blackbird, Noah's Arc, The Skinny)
Why don't we hear more of Patrik-Ian Polk, the mind behind the successful black gay drama Noah's Arc? He exemplifies the type of ambitious, multihyphenate media mogul we should be celebrating, having not only created that long-running series but also written and directed films like The Skinny that tackle the African-American LGBTQ experience like no other.
George Takei, actor and activist (Star Trek)
The social media-savvy Star Trek actor is, at 79, one of the most ubiquitous gay actors around. He remains a staunch champion of LGBT and Asian-American representation. While he's no doubt graduated into the role of elder statesman, it'd be refreshing to see him be given the center stage at this point in his career.
Margaret Cho, comedian
Margaret Cho, who's often spoken of herself as a queer woman — quite eloquently, too — has spent her career breaking barriers and crashing through glass ceilings, pushing her comedy to at times very uncomfortable and outright controversial places. She remains a vital queer voice worth celebrating.
Wilson Cruz, actor (My So-Called Life, Noah's Arc, Red Band Society)
The Puerto Rican actor, best known for playing Rickie Vasquez on My So-Called Life, has also become an advocate for gay youth of color. He's been fundraising for his passion project, a documentary titled Playing Gay: How America Came Out on Television.
Darryl Stephens, actor (Noah's Arc, Boy Culture)
The success of the long-running Noah's Arc and the buzz around Boy Culture (not to mention Darryl Stephens' gawk-worthy body) should have guaranteed this African-American actor plenty of press opportunities, along with the added exposure and career boost that would've come with them. Perhaps there will be a big PR push when his upcoming film, Doug Spearman's From Zero to I Love You, opens.
Cheyenne Jackson, actor (30 Rock, Glee, United 93)
Trust that the beautifully chiseled Broadway actor (whose father is of Native American descent) would be one of the few on the list to have earned the type of success that landed him coveted covers in three of the most visible LGBT mags around. Cheyenne Jackson is a reminder that a good set of abs (in addition to, in this case, jaw-dropping talent) can push you to the top of PR and editorial lists.
Raúl Esparza, actor (Hannibal, Pushing Daisies, Custody)
Born to Cuban-American parents, Raúl Esparza is widely considered one of the most versatile actors on Broadway. He's also worked extensively in television, however, most notably in Bryan Fuller's Pushing Daisies and Hannibal. He came out as bisexual in a New York Times profile in 2006 and will next be seen in the Viola Davis-starrer Custody.
Wanda Sykes, comedian and actress (The New Adventures of Old Christine, The Wanda Sykes Show)
The funny stand-up comedian famously came out during a Proposition 8 rally in 2008 and has talked openly about her LGBT activism ever since. Wanda Sykes is precisely the type of well-rounded entertainer and gay advocate who magazines should find room for on their covers in this day and age.
Perez Hilton, blogger
Love him or hate him, you can't deny the impact he's had on shaping the internet media landscape. With a recent stint on the U.K. reality TV show competition Celebrity Big Brother, there's no denying he's fine with being in the limelight.
Alex Newell, actor (Glee)
One of the many things that made Ryan Murphy's Glee such a phenomenon was its championing of diverse voices. That was definitely the case when they cast Alex Newell, a runner-up in the reality TV show competition The Glee Project, to play Unique Adams, a male-to-female trans student. Since his breakout role, Newell has pursued a solo music career releasing just these past few months the singles "This Ain't Over" and "Kill the Lights."
Angel Haze, rapper and singer
The "Echelon (It's My Way)" singer represents a new generation of queer musical artists. Angel Haze identifies as pansexual and as agender, and they match the freshness of their music with advocacy for body image, having started work on a campaign called "The Naked Eye" that focuses on body dysmorphia.
Emily Rios, actress (Quinceañera, The Bridge, Breaking Bad)
The California-born actress came out as lesbian in 2014 and has made a career of playing fascinating women, from her conflicted Magdalena in Quinceañera to her strong reporter Adriana in The Bridge. How this charismatic and talented actress hasn't been on more people's radars suggests Hollywood knows little about how to best implement Latina actresses.
Desiree Akhavan, director (Appropriate Behavior)
Desiree Akhavan made a splash in 2014 with her feature film debut Appropriate Behavior (where she starred as a bisexual Persian-American woman in Brooklyn, New York). If you don't know her name, you should wonder why this singular, new multihyphenate hasn't been greeted with the type of press that would make her a talent to watch. She can currently be seen in the U.K. dark comedy Flowers.
Don Lemon, newscaster
The CNN Tonight host came out publicly in 2011 with the release of his memoir, Transparent. Despite continuing to be a controversial interviewer, there's no denying there is something to celebrate in having such a visible gay black man on our television screens.
Billy Porter, performer (Broadway's Kinky Boots)
Billy Porter is a Broadway veteran. He originated the role of Lola in the Cyndi Lauper-scored Kinky Boots and has written, directed and performed in various shows in his long-storied career. As for current, cover-worthy credits, he's currently starring in the Tony-nominated Shuffle Along alongside Audra McDonald.
Colman Domingo, actor (Scottsboro Boys and Passing Strange on Broadway; Fear the Walking Dead)
Colman Domingo won a GLAAD award for his one-man autobiographical play A Boy and His Soul, which tackled his own conflicted childhood in Philadelphia. But now with Fear the Walking Dead, in which he plays Victor Strand, he may be getting his biggest audience yet. There's no better time for the larger gay community to get to know him.
Mark Indelicato, actor (Ugly Betty)
Mark Indelicato came to prominence by playing Justin Suarez in Ugly Betty. Embodying the coming-out teenager was one of the many things that made that ABC comedy an LGBT watermark. Now of age, the social media-savvy young actor is ready for his close-up (look no further than his Instagram) as he preps for the launch of his new Freeform series Dead of Summer, which premieres in June.
Q. Allan Brocka, director (Rick and Steve, Eating Out, Boy Culture)
This gay Filipino writer-director has crafted some of the most outlandish and hilarious takes on contemporary gay life. His animated sitcom Rick and Steve remains a touchstone of LGBT representation — yet perhaps his penchant for raunchy sex comedies (see Eating Out) has kept him from being easily packaged for the mainstream press. Can we hope his upcoming web series Before I Got Famous, which centers on a gay Chinese man, gets him more ink in the gay press?
Alejandro Amenábar, writer and director (Abre los Ojos, The Sea Inside, Agora)
The Oscar-winning Spanish director, who recently released the Emma Watson-starrer Regression, wed his partner in 2015. He's one of the most exciting and ambitious filmmakers working today, constantly stretching himself with every one of his most recent projects.
Big Freedia, rapper
Already an established Queen of Bounce (also the title of her Fuse reality show), Big Freedia recently got sampled in Beyoncé's "Formation" video. It's another example of the way Freedia, a gay man who embraces fluid gender expression (who was also featured in RuPaul's catchy "Peanut Butter" single), remains as fascinating an artist as they come.
Rex Lee, actor (Entourage, Suburgatory, Young and Hungry)
Best known for his role as Lloyd, Ari's assistant in Entourage, Rex Lee is, along with George Takei and Alec Mapa, one of the most visible gay Asian actors around. Often relegated to bit gay parts, he currently stars in the Freeform sitcom Young and Hungry.
Conrad Ricamora, actor (How to Get Away With Murder)
Known to audiences as Oliver, Jack Falahee's love interest in ABC's How to Get Away With Murder, Conrad Ricamora is also an accomplished stage performer, having wowed crowds in Here Lies Love. He can currently be seen in The King and I revival on Broadway, playing Lun Tha.
Parvez Sharma (A Jihad for Love, A Sinner in Mecca)
So long as magazine covers remain beholden to celebrities, the burden of representation will continue to be measured in terms of casting and acting nominations (look no further than #OscarsSoWhite), so why wouldn't we encourage our own media ecosystem to support and showcase the strong work being done behind the camera? From the hypnotic films of Tsai Ming-Liang to the powerful work done by Cheryl Dunye and Dee Rees, there's no shortage of nonwhite LGBT directors to choose from.
Jared Eng, Just Jared founder
The guy behind the Just Jared multimedia entertainment group (where readers get their dose of Hollywood gossip) would no doubt make quite a cover story. After all, he makes a living celebrating the very art of celebrity photography.
The Fun Home players
Joel Perez, actor
At the heart of 2015's Tony award-winning musical, which has been rightly hailed as "the most daring, relentless analysis of homosexual identity on the New York stage," are two featured players who ground the Alison Bechdel-inspired musical. Joel Perez (who began his career with the national tour of Lin-Manuel Miranda's In the Heights) and Roberta Colindrez (who has had smaller roles in Birdman and Boardwalk Empire) would make a perfect pair on any cover story, one that would show the surprising diversity in the already history-making musical.
Breanna Sinclairé, opera singer
Breanna Sinclairé, a trained opera singer, made national news when she sang "The Star-Spangled Banner" at an Oakland A's game in 2015; she was "the first transgender person to sing the national anthem at a Major League Baseball game," according to LGBTQ Nation. This even nabbed her a spot on 2015's Out 100 list. She's also an outspoken trans activist.
Shamir, singer-songwriter
The Nevada singer, who identifies as genderqueer, has been earning critical raves for what they consider an unmissable voice. Shamir is set to have a great 2016; not only will Shamir continue promoting 2015's Ratchet, but the "If It Wasn't True" singer will serve as the opening act for Troye Sivan's Blue Neighbourhood Tour in a number of U.S. cities. What better chance to get America to get to know this fresh-sounding artist?
Alternative music scene stealers
Nehemiah Akbar, R&B-dance artist
From the Motown- and R&B-inspired sounds of Nehemiah Akbar to the lesbian Christian duo Yo! Majesty, which blends hip-hop and crunk musical styles, there is no dearth of nonwhite queer musical acts out there that would kill for the type of exposure that a cover story brings. Ask none other than Parson James, who became Hello Mr.'s cover boy for the gay magazine's seventh issue.
Tori Fixx, hip-hop artist
Part of what this list also shows is the number of nonwhite artists who no doubt have contributed to our contemporary tolerant environment but who maybe never got the credit or exposure they deserved in their time. This is definitely true of Tori Fixx, one of the first openly gay hip-hop artists, as explored in the 2006 documentary Pick Up the Mic, which is about the underground homo-hop scene.
Rahsaan Patterson, R&B singer
Rahsaan Patterson, who got his start as "The Kid" in Kids Incorporated, eventually pursued a solo music career, carving a niche for himself in the R&B scene. Openly gay, Patterson is the type of under-the-radar successful artist who thrives even while remaining out of the spotlight.
Cakes da Killa, hip-hop artist
The out gay rapper (who came out when he was in third grade!) is part of an emerging LGBT hip-hop scene. His fiery intensity and raunchy lyrics make his raps particularly striking, a refreshing step away from any squeaky-clean vision of LGBT respectability and all the more laudable for it.
Kele Okereke, Bloc Party lead singer
Previous covers: Attitude (Summer 2010), Butt magazine (Spring 2010)
Guillermo Díaz, actor (Weeds, Scandal)
Having played unabashedly flamboyant roles in the past (a drag queen in Nigel Finch's Stonewall, a gay nurse in Mercy), as well as Latino criminals (Guillermo in Weeds, Poh Boy in Cop Out) Guillermo Díaz is best known now for playing Huck in ABC's Scandal. His NSFW photoshoot for Pinups magazine in 2010 showed he's clearly comfortable in front of cameras.
Blake Young-Fountain, actor (The Skinny)
Blake Young-Fountain co-starred alongside Jussie Smollett in The Skinny, a film that depicts a vision of a cosmopolitan urban gay African-American milieu that seldom gets represented on screen. He also had a bit part in the James Franco film I Am Michael, and will next be seen in the project Do You Know the Way to San Jose (which he's also producing).
Julian Walker, actor (Blackbird)
You'd think getting your big break by starring in a film opposite Mo'Nique and Isaiah Washington (in Patrik-Ian Polk's Blackbird) would get you noticed. Kudos to publications like Kontrol Homme for seeing that Julian Walker is definitely someone to watch.
Omar Sharif Jr., model and actor
If what magazines like Out, Instinct and Attitude are looking for is beautiful eye-candy, you really can't beat Omar Sharif Jr., the grandson of the famed Hollywood actor by the same name, who's made a name for himself as an actor.
Fashion vanguard
Mondo Guerra, designer (Project Runway: All Stars winner, season one)
Jason Wu, designer
Alexander Wang, designer
While you're likely to have seen their designs on models in countless magazine covers and spreads, there's no reason why these successful and charismatic fashion designers should not get their own time in the spotlight. Look no further than that gorgeous Hollywood Reporter cover with Alexander Wang and Nicole Kidman. How much more fabulous can you get?
Mark Kanemura, dancer (So You Think You Can Dance)
A finalist on Fox's hit series So You Think You Can Dance, the Hawaii-born dancer has worked with Lady Gaga and Janet Jackson, among others.
Vicci Martinez, singer (The Voice)
Vicci Martinez, who came in third in the first season of NBC's The Voice, is a talent to watch. After a few releases through labels, it looks like she's taking matters into her own hands. In 2015, she self-released her latest record I Am Vicci.
Doria Roberts, singer
An "out lesbian in an interracial relationship living in the South," as she told Atlanta magazine, Doria Roberts is the type of inspiring musician more people should know about. Look no further than her original musical tribute to Odetta, the late civil rights singer-songwriter and activist who was also a mentor and friend of Roberts'.
Broadway's best
Telly Leung, actor (Godspell, Pacific Overtures, Wicked and Allegiance; TV's Glee)
One doesn't have to look far within the Broadway community to find great nonwhite performers; and coming off a record year for Broadway diversity, you could easily find room to showcase the strong work of these performers, who represent but the tip of the iceberg when it comes to out talent on the Great White Way.
Patricia Velásquez, model and actress (The Mummy, The L Word, The Apprentice)
Considered by many as the first Latin American supermodel, Patricia Velásquez talked publicly about her sexuality (and her relationship with Sandra Bernhard) in her memoir Straight Walk. It's no surprise Curve gave her the cover this time in 2015 — there's no denying she gives great face.
Evan Adams, actor (The Business of Fancydancing, Smoke Signals)
This Canadian actor's role as Seymour Polatkin in The Business of Fancydancing remains one of the few notable representations of a gay man grappling with his Native American heritage. On top of his acting work, Evan Adams has lead a distinguished career as a doctor, becoming the chief medical officer of the First Nations Health Authority in British Columbia in 2014.
Max Wolf Valerio, writer and actor (The Testosterone Files)
Max Wolf Valerio — who was raised in the Blood Reserve in Alberta, Canada — chronicled his experience as a trans man in his 2006 memoir The Testosterone Files: My Hormonal and Social Transformation From Female to Male. He's also appeared in Unhung Heroes, directed by fellow FTM Lazlo Pearlman, a short comic film about five trans guys hoping to raise enough money to take part in a revolutionary penis transplant surgery.