Joe Biden "Confident" Hillary Clinton Will Win Nomination and Presidency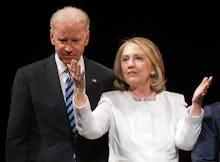 Vice President Joe Biden all but formally endorsed Democratic presidential frontrunner Hillary Clinton in a new interview, telling ABC News he was "confident" the former secretary of state would win the Democratic nod and the presidency.
"I feel confident that Hillary will be the nominee, and I feel confident that she'll be the next president," Biden told ABC's Robin Roberts in the interview, which will air Wednesday on Good Morning America.
The comments come one month after Biden told Mic that he "would like to see a woman elected president," but stopped short of either endorsing Clinton or assessing her chances against rival Bernie Sanders. Since then, Clinton has cemented her frontrunner status with victories in the New York primary on April 19 and in the so-called "Acela Primary" on April 26.
Read more: Joe Biden: "I Would Like to See a Woman Elected"
Biden cast an early ballot ahead of the April 26 primary in his home state of Delaware, but did not disclose for whom he voted.
Though Biden served alongside Clinton in the Obama administration, there have been moments of tension between his orbit and hers — both during and since his own contemplation of a 2016 presidential bid. In public remarks, Biden has implicitly jabbed at Clinton's partisanship and her credibility on issues of economic inequality, while lauding Sanders' authenticity on those issues.
Still, while President Barack Obama has not offered an endorsement in the Clinton-Sanders race, it's an open secret that the White House hopes to see Clinton take the Oath of Office on Jan. 20, 2017. Echoing Clinton's talking points, Obama has suggested that Sanders is too much of a single-issue candidate, while the White House took Clinton's side in April, when Sanders suggested that her track record on issues like Wall Street and the Iraq War disqualified her from the presidency.