This Disappearing Tattoo Ink Is a Godsend for Anyone With Ink Regrets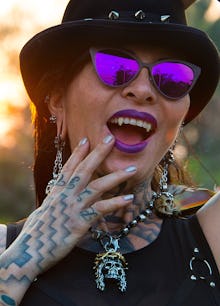 There's finally a tattoo ink for commitment-phobes, or anyone inclined to get a Donald Trump tattoo in 2016.
A team from New York University's Tandon School of Engineering is developing an ink that's supposed to break down after a year (or three) and can be removed by a tattoo artist.
The system, called Ephemeral, is a two-step process that starts with a degradable ink delivered via encapsulation — the same technology sometimes used for delivering chemotherapy drugs — and ends with a tattoo artist using a removal solution to trace back over the original design to get rid of it.
It's kind of like erasing the writing on a whiteboard by tracing back over the lines — only this method hurts a lot more.
"Application and removal are exactly the same," Ephemeral CEO Seung Shin said in a phone interview. "It will still hurt; the amount of pain will be identical to a regular tattoo. But I can tell you it's not as bad as laser surgery. I've had that. It's god-awful."
One of the unique elements here is that since the tattoo can just be erased, little fixes are possible. "No Ragrets" can finally be "No Regrets." And the names of exes can be replaced by new flings in perpetuity.
Shin said the new cost of a tattoo with Ephemeral would be an additional $50 to $100 to pay for the ink and the removal process. The actual tattoo price depends on the artist.
Shin said this could have huge implications not only for traditional tattoo designs, but also for a less permanent permanent makeup, like tattooed eyebrows and lip liner. It might even find a place in the operating room.
"When doctors perform surgery, they tend to mark the surgery spot with a Sharpie pen," Shin said. "But if there are multiple doctors, the original spot marked by one doctor might fade by the time the next doctor gets started. Our technology makes sure they hit the right spot."
Right now, the ink has only been tested on cell models and pig skin; no human trials exist yet. And because of hold-ups involving the ink's financing round, the Ephemeral team pushed its early goal of June 1 to July 1.
Just like how digital media turned eternal print errors into a thing of the past, this kind of ink could turn "forever-ragrets" into dumb, fixable mistakes. As long as you can handle the extra pain.