Donald Trump Selects White Nationalist as Delegate Due to "Database Error," Campaign Says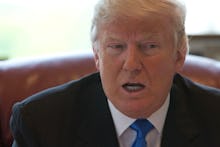 On Monday, presumptive Republican presidential nominee Donald Trump released a list of delegates who will represent the candidate during California's June primaries. One name on the list is raising eyebrows — because it happens to be none other than notorious white nationalist leader William Johnson, reported Mother Jones on Tuesday.
Johnson is the leader of the American Freedom Party, which describes itself as a "nationalist party that shares the customs and heritage of the European American people." The AFP's stated platform includes opposition to "liberalism, socialism, cultural Marxism, multi-racialism, feminism, neo-conservatism, fascism and corporatism," border walls, disdain for "militant feminism and radical homosexuality" and support for "freedom in racial matters." 
Mark Potok, a senior fellow with hate group-tracking organization Southern Poverty Law Center, told Mother Jones AFP is "arguably the most important white nationalist group in the country." The party has used this election as an opportunity to send out robo-calls, informing voters of the coming death of the white race.
In 1985, Johnson wrote a book under the pen name of James O. Pace titled Amendment to the Constitution: Averting the Decline and Fall of America, according to the SPLC. In the book, Johnson advocated revoking the citizenship of all citizens who were not a "non-Hispanic white of the European race, in whom there is no ascertainable trace of Negro blood" and who is not more than one-eighths any other ethnicity, and deporting all who failed to reach his racial purity guidelines out of the country.
According to the SPLC, the group has been organizing with the hopes of reuniting California's fractured white supremacist movement under one banner. But he's cited Trump, who has repeatedly flirted with the far right as a key enabler of this mission. In an interview with Venezuelan TV network Telesur, Johnson said Trump would help "white nationalism ... gain widespread acceptance and even a degree of admiration in the coming decade."
A clearly pumped Johnson told Mother Jones, "I can be a white nationalist and be a strong supporter of Donald Trump and be a good example to everybody."
However, within hours, the Trump campaign issued a statement blaming the selection of Johnson on a "database error [which] led to the inclusion of a potential delegate that had been rejected and removed from the campaign's list in February 2016." The campaign also said Johnson will not represent Trump in California.
However, by Tuesday evening, the California Secretary of State's office said Trump had missed his deadline to pull Johnson off the delegate list, and thus the white nationalist will remain an official Trump surrogate in the state.
It's far from the first time Trump has been accused of associating with racists. In addition to approvingly retweeting Mussolini quotes, citing made-up statistics on crime rates and black people and winning multiple endorsements from neo-Nazis and supremacists, Trump landed himself in hot water for failing to condemn the Ku Klux Klan in a February CNN interview.
Update: May 11, 2016 at 11:25 a.m.: This story has been updated to reflect an official response from the California state government to Trump's request to pull Johnson from the delegate list.