You Can Help Build the Hyperloop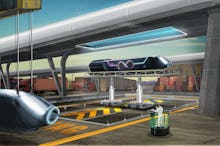 LAS VEGAS — When Elon Musk wowed the world with his proposal for a line of transportation that would ferry riders from New York to Los Angeles in 45 minutes, no one imagined that technology would be available any time soon. But the Hyperloop may indeed be very close at hand.   
At a media event in Las Vegas, Nevada, Hyperloop One (formerly Hyperloop Technologies) announced plans to debut a full scale system test this year. The announcement comes five months after CNN revealed photos of the project in progress. 
At a press event in Las Vegas, CEO Rob Lloyd said he believed the Hyperloop would be as big a game changer for physical goods as the internet was for data transfer. The concept is that the Hyperloop will be an all electric autonomous closed system, meant to not only ferry goods faster, but to have less of an impact on the environment than trains.
The challenge: To build the Hyperloop, the company has secured $80 million dollars and launched the Hyperloop One Global Challenge. The endeavor is aimed at gathering proposals for where a Hyperloop can be set up and how it would be implemented. The focus is on transporting cargo, not humans. The challenge's participants will have access to Hyperloop One's team of experts, as well as some information about its technology. Open to "individuals, companies and governments," the competition will accept submissions from now until September 15, 2016.    
"That challenge is an opportunity for all creative minds around the world to participate," Lloyd said at the press event. 
In addition to landing gobs of money, the company has signed partnerships with a slew of international partners including Systra, a transportation engineering consulting firm that's worked on high speed rail projects; Deutsche Bahn Engineering and Consulting in Berlin; and Amberg Group, a Zurich-based company that focuses on transit and social development. The press release focused heavily on European partnerships, though the company has conducted initial testing just outside Las Vegas. Much of that has to do with where the Hyperloop will likely first deploy. 
The plan: Right now, The company says that it's involved in a study that will examine how Hyperloop routes between Finland and Sweden might impact the region. An organization in the Netherlands will also host a competition to suss out possible implementations of the Hyperloop there. 
In past conversations,  Hyperloop One vice president Knut Sauer has said the U.S. would likely not be the Hyperloop's first launch site thanks to a frigid regulatory environment. As a result, the company has spent the last several months exploring alternative locations for its debut system like Finland, Sweden, Russia and the Middle East and Far East.  
Still, the United States' "unfriendly" democratic system hasn't stopped Hyperloop One from capitalizing on advantageous relationships with officials in Nevada to acquire land and secure the appropriate permits for testing its technology. Being in the U.S. could also help move along legislation that would allow a Hyperloop to transit cargo. 
On the testing front, progress has been good. On Wednesday the company will test its technology in front of a group of googly-eyed reporters.
"No one comes close to our progress in commercializing this revolutionary transportation system,"  Hyperloop One cofounder Brogan BamBrogan said in the press release. The comment is seemingly a dig at competing Hyperloop company (and potential catalyst for its name change), Hyperloop Transportation Technologies. The major Hyperloop One news and test launch follows Hyperloop Transportation Technologies news that it inked a deal with Lawrence Livermore National Labs to use their passive magnetic levitation technology. 
The test: Wednesday at 11 a.m. PST, reporters will gather to watch the company run a test of its transit system along an open track in Northern Las Vegas. The demonstration is expected to last ten seconds. 
At scale, the Hyperloop is supposed to travel at over 700 miles per hour inside an airless tube. 
In the meantime, Elon Musks SpaceX is hosting a competition in partnership with Hyperloop One aimed at fostering development of Hyperloop pods. The final round of the challenge is expected to take place this summer.