ISIS App to "Teach Arabic" — Probably Not Really About That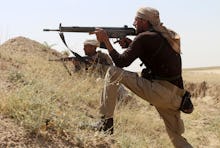 Everyone loves apps — apps can do anything!
They can bring us food, enhance our vacation FOMO and find us easy sexual partners. Apps are so great and useful that just about everyone has one nowadays, including:
The Islamic State Group
The international terrorist organization, commonly known as ISIS, launched an "Arabic language" app aimed at children, ostensibly for pedagogical purposes. The app seeks to help young people better acquaint themselves with the Arabic alphabet, Long War Journal and others reported.  
The app was released by the Islamic State's "Office of Zeal." A closer look at the product, only available on Android, indicates that 
ISIS may have had ulterior motives.
Some of the fun new words for kids to learn are "talaqa," which means "bullet;" "madfa'," which means "cannon"; and "dababa," which means "tank." The app also uses Islamic songs called nasheed, which, in the app, all bear a decidedly militaristic bent. 
I see what you did there!
ISIS may have been inspired by Lieutenant L.T. Smash's plan to use boy bands to shore up Navy enlistment on the 2001 Simpsons episode, "New Kids on the Blecch."
Read more: Dog the Bounty Hunter Told Us His Secret Weapon for Destroying ISIS: Pig's Blood