Charla Nash's Body Rejected Her Face Transplant — But the Chimp Attack Suvivor Will Be OK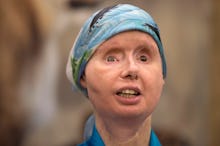 Her body may have begun rejecting her face transplant, but the survivor of a brutal 2009 chimpanzee attack — and her new face — are going to be alright. 
After a 200-pound chimp mauled off parts of her face and hands, leaving her permanently blind, Charla Nash achieved the unthinkable by undergoing a successful face transplant about five years ago. 
"I will now be able to do things I once took for granted," Nash said in a statement at the time. "I will be able to smell. I will be able to eat normally. I will no longer be disfigured. I will have lips and will speak clearly once again. I will be able to kiss and hug loved ones."
That's why it was scary to learn, last week, that Nash's body had begun rejecting her face transplant. Doctors made the discovery after Nash found "several unusual patches on her face," according to CBS News. 
Nash had reportedly been participating in a military-funded study that involved her being weaned off her anti-rejection medication. The purpose of the study was to find alternatives to anti-rejection medication, which come with a number of harmful side effects, including high blood pressure, weight gain and mood swings. 
Thankfully, doctors at Boston's Brigham and Women's Hospital confirmed Nash's transplant was "not in jeopardy," according to a statement. Nash was removed from the study and has gone back on her original medication.
Now, Nash appears to be doing just fine, appearing Wednesday morning on Today in a pre-taped interview with Meredith Vieira.
"The study is not a failure, it's a success," Nash said of the study. "They've learned so much from all my testing."
Nash is able to live fairly independently, given her circumstances. She has an aide who helps her during the week, but she's solo on the weekends. She gets around using a transportation service for people with disabilities, and reportedly enjoys shopping.
When it comes to medical assistance, Nash said she has "just what I need." She's even learning to use a robotic arm that can help her with everyday tasks, according to Vieira.
She eventually plans to return to a favorite pastime, Nash said: "I want to ride horses again."