7 Empowering Illustrations Remind Everyone What Color All Girls' Rooms Should Be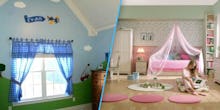 It's a common decorating practice: boys' rooms = blue, girls' rooms = pink.
But as activists and experts have stated loud and clear, making these gendered assumptions for children is more than impolite — it's dangerous.  
Artist Carol Rossetti has had enough of this. 
She has turned her sketches — all posted to her public Facebook profile — into ammo for action. Her "Colors" comic series challenges the stereotype head-on.
Why? Because some girls' favorite color is blue. Some boys' favorite color is pink. And that's a beautiful thing.
"It's about some kids who are, like all of us, much bigger on the inside, and will not accept being put in small boxes of conventions," Rossetti wrote on Facebook.
Check 7 of her illustrations below:
The message? "[Kids] want to feel free to discover their passions and to play with the whole power of their imagination — which is probably the most powerful force in the world," Rossetti wrote on Facebook.
Check out the rest of Rossetti's "Colors" series about breaking through the gender mold here.