This Plus-Size Ballerina Defies All Ballet Stereotypes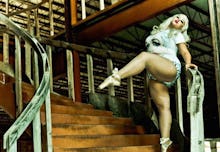 Frostine Shake is an Austin-based makeup artist, model and dancer who proves that people of all body types can become badass ballerinas like herself.
Shake is a classically trained ballerina who's spearheading body positivity for ballet dancers, a profession where bodies are famously scrutinized. "If your goals are to become a principal dancer, don't give up like I did," she said, according to Buzzfeed. "But also remember to put your dignity and beliefs first." 
Shake started ballet classes when she was about six or seven years old. But she quit around age 16 or 17, after feeling pressured to have a thin body. 
"I just could not meet the demands of my instructors, and I didn't really want to either," she said, according to Buzzfeed. 
Then she fell in love with burlesque because it "gave me freedom to express myself in a body-positive way," she said. She noticed she was referring back to her ballet moves, which prompted her to once again tie up her pointe shoes.
Shake said she loves ballet for its discipline and grace, which makes her "feel elegant and strong."
On her Instagram, fans have expressed how inspired they are by her work. "Loving this," one commenter said. "Inspires me to be a #PlusSizeBallerina and a #PlusSizeDancer in general."
Read more: Demi Lovato's Latest Bikini Selfie Is Your Daily Dose of Body Positivity