A Woman's Suicide Was Broadcast Live on Periscope — But the Problem Is Even Bigger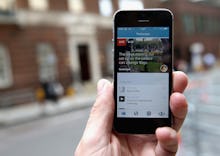 A 19-year-old woman filmed her suicide on the livestreaming app Periscope on Tuesday about 25 miles south of Paris, the New York Times reported. 
French officials are now investigating the cause of death. The video is no longer available on Periscope.
This woman's suicide isn't the first troublesome content to stream on the app. 
An 18-year-old livestreamed her friend's alleged rape on Periscope because "she got caught up in the likes that were showing on her screen," according to the prosecutor. 
Last month, two teenagers assaulted a man in a nightclub in France. One of the attackers filmed and bragged about the incident on Periscope. 
Periscope's safety measures leave a lot to be desired. "Making Periscope a safe place for our community is a top priority for our team," Periscope states on a page called "What if I find inappropriate content?" "We are working hard to prevent inappropriate content from appearing on the platform." According to the timestamp, this page was updated shortly after the aforementioned suicide took place. 
Users can flag Periscopes they find concerning by hitting the "Report Broadcast" button within the app. This will "instantaneously alert" the Periscope team of the content. 
"People are more interested in making the platform more open, more available and closer to real time," Veetle chief technology officer Ethan Wang told NPR. "And the trade-off here is you get undesirable things happening."
Twitter received 5,560 government requests for information involving 12,176 accounts on Twitter, Vine and Periscope in the second half of 2015, according to its most recent Transparency Report.
We reached out to Periscope for comment. A Twitter representative said they cannot comment on individual accounts "for privacy and security reasons" and included a blurb from Periscope's community guidelines:
"Periscope is intended to be open and safe. To maintain a healthy platform, explicit graphic content is not allowed. Explicit graphic content includes, but is not limited to, depictions of child abuse, animal abuse or bodily harm. Periscope is not for content that is intended to incite violence, or includes a direct and specific threat of violence to others."
Editor's note: For information about suicide prevention or to speak with someone confidentially, contact the National Suicide Prevention Lifeline at 1 (800) 273-8255 or the Crisis Text Line at 741-741. Both provide free, anonymous support 24 hours a day, seven days a week.