The Most-Watched TV Show Set in Each State — In One Surprising Map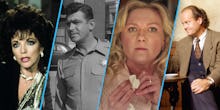 Which TV show set in sunny California had the best-rated series finale ever? The O.C.? Desperate Housewives? Ellen, perhaps?
Think further north, up to San Francisco. The correct answer is Full House.
Read more: The Most Popular Movie from Each State — in One Surprising Map
We've previously explored what IMDb users think is the best show set in every state (plus Washington, D.C.). But which were actually the most watched? That's what we set out to find out — and the results were, in many cases, quite surprising.
The methodology: TV shows that run for several seasons can hit huge ratings highs and crater to deep lows throughout their run. To avoid getting overwhelmed by numbers, we used each show's series finale rating as measured by Nielsen as our metric. The highest series finale viewership serves as the most-watched from the state.
In cases where there was not a highly viewed series finale, we went with the series that produced the most seasons and/or episodes (theoretically, a long-running show means a widely-viewed one). The result of those two metrics is the map you see above.
Additionally, we did count reality shows, but only when the location was vital to the show itself. American Idol may be shot in California, but it could theoretically take place anywhere. Deadliest Catch is pretty unique to Alaska.
A few fun facts about this map: What's popular with IMDb users isn't a good measure of what's popular with the viewers — unless you're talking about Arkansas, Montana, Wyoming, North Dakota, Delaware, Mississippi, New Jersey, New Mexico, North Carolina, South Carolina, Tennessee or Hawaii. Those 12 states are the only ones with the same most-watched show as featured on our most popular map. (Most of those states have few shows set in them.)
Montana's Caitlin's Way appearing on both lists really shouldn't be seen as a sign of strength for the forgettable Nickelodeon show. There just aren't really any shows set in Montana.
The most-watched of all these series is Virginia's Roots, which drew 99 million viewers in 1977.
New York was the closest contest between two shows: While Seinfeld's finale drew 76.3 million pairs of eyeballs, Friends' final installment garnered 52.5 million — good enough for sixth place on the all-time series finales list to Seinfeld's fifth.
The preponderance of older series on this list is attributable to how much higher ratings were then. Ratings for even the biggest shows have depressed in the past decade. This makes shows like Grimm (which debuted in 2011) and The Grinder (which just wrapped its first season) the exceptions.
Washington state TV fans owe Massachusetts a beer next time they're at Cheers. The Pacific Northwestern state's most-watched show, Frasier, is the only spinoff of another show on the map — which, of course, is Cheers.