Azealia Banks Got Dropped From a UK Festival Following Racist Tweets Against Zayn Malik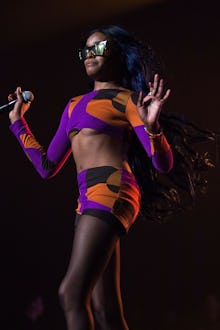 Tuesday, Azealia Banks sparked yet another Twitter beef with perhaps her biggest target yet: former One Directioner Zayn Malik. She accused him of jacking some of outfits and video treatments, but it quickly devolved into a slew of racist slurs, with Banks calling the British Pakistani star a "curry-scented bitch" and a "sand nigger."
It seems that rant will actually cost her this time.
Wednesday, Rinse's Born & Bred Festival announced it had decided to cancel the rapper's headlining appearance at their June festival as part of their dedication to "celebrate inclusivity and equality."
"Rinse Born & Bred is a celebration of rave culture and has been created for everyone," the announcement read.
However, the announcement didn't seem to phase Banks one bit. She retweeted the festival's announcement, pairing it with a crying-laughing emoji and an American flag.
"Most of the people coming to this on my day were only coming for me," she wrote.
This whole rant comes four days after Banks announced her support of Donald Trump. He factored into the most vitriolic portion of disses and threats against Zayn.
In unrelated Banks news, the rapper will be appearing in front of a New York court today for allegedly attacking a nightclub security guard in December. She says she'll have a "surprise" ready for the paparazzi.