Emma Watson's Name Surfaces in Panama Papers Database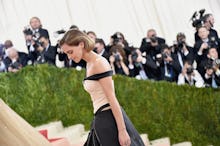 Given hackers' penchant for targeting female celebrities, Emma Watson's wish to protect her anonymity is understandable. It's apparently also the reason her name has surfaced in the Panama Papers leak — she was reportedly using an offshore company in the British Virgin Islands to purchase property while guarding her privacy.
"Emma (like many high profile individuals) set up an offshore company for the sole purpose of protecting her anonymity and safety," reads a statement from Watson's representatives, published in the U.K. Spectator. "U.K. companies are required to publicly publish details of their shareholders and therefore do not give her the necessary anonymity required to protect her personal safety, which has been jeopardized in the past owing to such information being publicly available."
According to the Times, Watson bought her $4 million London home in 2013 through a company called Falling Leaves Ltd., in turn established by Mossack Fonseca, the Panamanian law firm behind the many shell companies whose details were leaked in the millions of confidential documents now known as the Panama Papers. Since early April, they've turned a spotlight on government corruption, shady behavior on the part of many high profile individuals and profiteering by the 1%.
Allegedly, the 26-year-old actress, feminist and activist wasn't profiting off the arrangement, only trying to shield her personal information from a prying public. 
"Offshore companies do not publish these shareholder details," the statement continued. "Emma receives absolutely no tax or monetary advantages from this offshore company whatsoever — only privacy." 
Read more: Emma Watson Just Tore Apart Everyone Who Thinks There Is No Gender Gap