Is Jenny Slate Dating Chris Evans? God, We F**king Hope So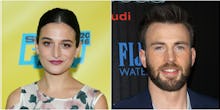 Listen. No, seriously, listen. 
You know that guy from high school you had a crush on, who played lacrosse and had dimples and looked like a lifeguard from the cover of your favorite Babysitters Club book? You know how you always thought he was flirting with you 'cause he kept lending you pens and writing "LOL" at your AIM away messages, but you never made a move because he was super popular and you were the weird drama club girl who smoked too much weed and wore the same kitty ear hoodie every day?
Well, guess the fuck what. The weirdo and the prom king can hook up, after all. It's happening right now, in Hollywood, according to a new report from Us Weekly claiming that comedian Jenny Slate and Captain America star Chris Evans are boinking on the reg. 
THAT'S RIGHT. CHRIS EVANS AND JENNY SLATE ARE BOINKING ON THE REG. REJOICE, FELLOW LADY WEIRDOS. YOU CAN GRAB THAT PROM KING D AFTER ALL.
According to the manna from heaven Us Weekly report, Evans, who has dated Friday Night Lights star Minka Kelly, and Slate, who recently split up with husband Dean Fleischer-Camp, met on the set of the upcoming indie drama Gifted. The two were first spotted canoodling (a term that is essentially tabloid shorthand for "sucking face and going to third base under the table like a pair o' horned-up tweens") at a Hollywood restaurant back in March. 
Honestly, though, like, the details don't matter. The point is that Chris Evans and Jenny Slate are doing it, and the internet is super happy about it: 
The takeaway from all of this, obviously, is that hot guys love pale, awkward, big-haired, disaffected Jewish weirdos who make jokes about vaginal discharge. Which leads me to my final thought: to the guy in the grade above me who I had a crush on in high school, who was on the tennis team and wore polo T-shirts and threw loft parties on the weekends, give me a call. Technically I'm, like, engaged to be married, but we have some unfinished coitus business to attend to.