ISIS Claims Responsibility for 4 Baghdad Car Bombs Targeting Shias — At Least 88 Dead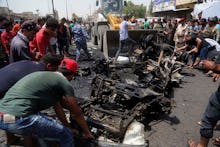 The Islamic State group, or ISIS, has claimed responsibility for a series of four car bombs Wednesday across Baghdad that have killed at least 88 people in total. The first explosion was the most devastating: A massive car bomb in Sadr City, a densely populated Shia area of Baghdad, killed at least 66 people and injured dozens more. 
The self-proclaimed Sunni Islamic terrorist network has frequently targeted Shiites, a Muslim minority ISIS regards as inferior. A pickup truck, laden with explosives, drove to an open-air market during rush hour before detonating the first bomb. The attack happened near a beauty salon, where a number of women were killed while reportedly preparing for their wedding ceremonies.
Shortly after, the Associated Press reported a second car bomb, also in a predominantly Shiite area of Baghdad, had killed at least 11 people and injured 32. 
Reuters reported yet a third car bomb with at least seven casualties shortly after. 
By Wednesday afternoon, Al Jazeera reported the fourth. 
Fires, blood, bodies and debris littered the area, according to eyewitness accounts.
Karim Salih, a grocer, told the Guardian the pickup truck was parked by a man who quickly disappeared among the crowds of people.
"The force of the explosion threw me meters away and I lost consciousness for a few minutes," Salih said, adding that he saw a man park the truck and quickly flee the scene before it detonated.
ISIS alleges a suicide bomber detonated the explosion in Sadr City; however, Iraqi officials counter the terrorists' statement, saying there was no bomber on site. 
This story is breaking and will be updated. 
May 11, 2016, 1:14 p.m. Eastern: This story has been updated.
Correction: May 11, 2016