This Woman Confused an Adult Vietnamese Man for a Child in Front of Thousands of People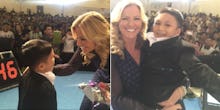 A speaker at an entrepreneur's conference in Vietnam was left red-faced on Sunday after a "child" that she scooped up from the audience for a quick photo turned out to be a 22-year-old man.
Michelle Mone, who Mashable described as a "lingerie tycoon and socialite," told her 1 million Twitter followers shortly afterward that the incident had left her reeling.
"Most embarrassing moment," she tweeted. "Speaking in Vietnam to 3,000 people, thought this was a 6-year-old, picked him up, he's a man."
The man in question, Nguyen Tan Phat, had been approaching Mone with a congratulatory bouquet of flowers when she mistook him for a young admirer.
After outlets initially reported that he was 46 years old, Phat took to Facebook to set the record straight. He was born in December of 1993, according to a photo Phat uploaded to Facebook, making him 22 years old. 
Luckily for Mone, the room seems to have taken the incident in stride. She told the Daily Mail that the crowd was "screaming with laughter" at her faux pas, and that "the guy was fine with it."
Read more: Samantha Bee Tears Apart Tennessee Anti-Trans Bathroom Lawmaker Jeremy Durham