Brazilian Soccer Star Rivaldo Ferreira Warns Tourists: Steer Clear of the Rio Olympics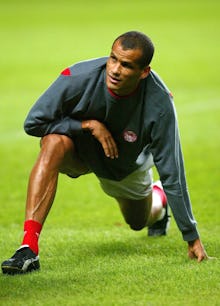 Brazilian soccer icon Rivaldo Ferreira has a message for would-be tourists planning on heading to the Summer Olympics in Brazil this August: Please, for your own safety, stay away.
Rivaldo shared an image of a recent murder victim accompanied by a caption: "Bandits killed this little girl of 17 years. Things are getting uglier here every day. I advise everyone with plans to visit Brazil for the Olympics in Rio — to stay home. You'll be putting your life at risk here."
"This is without even speaking about the state of public hospitals and all the Brazilian political mess," he added. "Only God can change the situation in our Brazil."
Rivaldo, one of the most famous and accomplished Brazilian soccer players, played professionally from 1993 to 2003 and is currently president of Mogi Mirim Esporte Clube in São Paulo.
A 2015 United Nations report ranked Brazil as the nation with the most homicides in the world, based on the most recent data available from 2012, reported the L.A. Times. In that year, Brazil's homicide death toll of 64,000 put it roughly on par on an absolute basis with annual deaths in the Syrian Civil War. Overall, the country has a homicide rate of 32.4 per 100,000 people.
Key contributing factors include organized crime and drug trafficking gangs, as well as rampant inequality and corruption. Brazil is one of the most unequal countries in the world, reports the New York Times. While poverty rates have declined significantly in recent years, a recent recession has greatly hurt the Brazilian economy. Embattled President Dilma Rousseff, who recently survived an impeachment attempt, recently called on Congress to enact deep austerity measures.
It's often said there are two Brazils — one for a relatively small but politically powerful class of affluent urban professionals, and a much larger population of disadvantaged urban and rural poor. Tensions over the billions of dollars spent on 2014's FIFA World Cup in Brazil, as well as major police crackdowns seemingly designed to clear likely tourist sites of undesirables in advance of the tournament, led to major protests throughout the country that year.
According to NPR, Brazil has budgeted $13 billion for the Rio de Janeiro Olympics and is widely expected to spend much more, despite the ongoing civil problems, which also include health care shortages and the government ministries shirking scheduled payments on athletics. Just like in 2014, residents of poor neighborhoods say they are facing harassment, intimidation and evictions from authorities attempting to enforce social segregation before the big event.
However, according to Rough Guides, tourists who take necessary precautions are unlikely to come to any physical harm, though simple robbery is more common.
"Criminals know that any injury to a foreign tourist is going to mean a heavy clampdown, which in turn means no pickings for a while," the site writes. "So unless you resist during an incident, nothing is likely to happen to you."