A North Carolina School Thinks Students Need Mace for Self-Defense in Bathrooms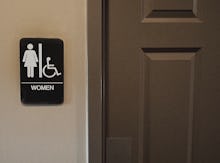 After North Carolina legislators sued the federal government in an attempt to uphold the state's House Bill 2, a recently enacted law that mandates people use the bathroom corresponding to their gender assigned at birth rather than their gender identity, one school is taking matters into its own hands.
According to the Salisbury Post, North Carolina's Rowan-Salisbury Board of Education ruled that, starting in the 2016-2017 school year, students will be allowed to carry shaving razors, pepper spray and "other defensive sprays" on campus. These items had previously been prohibited in the district's official policies.
Board member Chuck Hughes mentioned that the amended policy could have new significance in light of the state's bathroom law. "Depending on how the courts rule on the bathroom issues, it may be a pretty valuable tool to have on the female students if they go to the bathroom, not knowing who may come in," Hughes said at an education forum Monday.
Read more: 7 Things to Worry About More Than Transgender People in a Bathroom
Other school board members reasoned that many students likely carry these items with them anyway, and might genuinely forget to clear them from their purses or pockets before heading to school. Another board member pointed out there's probably "more pepper spray in the stands [at football games] in pocketbooks and key chains" than school officials realize, but that they could help keep students safe when walking from the field to their parked cars.
Hughes' logic, however, echoes the likes of former presidential candidate Texas Sen. Ted Cruz and Duck Dynasty star Phil Robertson, who have both espoused beliefs that transgender women, who they deem men, are a danger to cisgender women and young girls.
But the cold hard truth is there are exactly zero reports of a trans person ever attacking anyone in a bathroom, and in fact, GOP politicians have a more damning track record in public bathrooms than trans people.