The Truth About Kim Kardashian's Red Carpet IV Treatment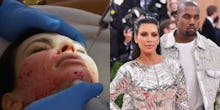 No, Kim Kardashian West clarified Tuesday night. She did not use intravenous therapy treatment prior to her appearance on the 2016 Met Gala red carpet. 
The report, published by Page Six, connected the megastar to a New York-based IV therapy company and might have had something to do with her preference for alternative beauty, erm, methods. But the reality star tweeted she's convinced the report was a ploy by the company to get undeserved publicity. 
Read more: I Wouldn't Wish Kim Kardashian West's Beauty Secrets on My Worst Enemy
"Super random but I hate when people put out fake stories to sell their products," She wrote. "I read today that I got an IV treatment before the Met. Not true."
Of course, Page Six said differently, essentially advertising one of the company's nearly $400 treatments and linking to the service: "Kardashian likely chose the 'Beautify' treatment, which includes a cocktail of B vitamins and anti-inflammatory medication to rejuvenate the hair and skin and costs $399," the tabloid reported. 
Regardless of whether you believe either side of the story, one thing is true: There is plenty of online speculation behind Kardashian West's beauty routine, and an understanding amongst the star's fans that nothing's off the table when it comes to her achieving the perfect look.
From spreading blood on her face to taping her boobs with gaffer's tape, to painting her face into contoured oblivion, part of Kardashian West's celebrity factor is that she's always willing to try new beauty treatments, no matter how outlandish.
It's not cool for anyone to profit off of a celebrity's name — especially when that celebrity hasn't used a company's services. Then again, it isn't exactly surprising that some would believe Kardashian West had a beneath-the-skin beauty treatment ahead of her latest red carpet event. 
If IV treatments weren't already on the beauty icon's wish list, they just might be now.