'Daily Show' Mom-Shaming Video Catches the Eye of John Legend, Says There's No Dad-Shaming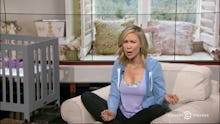 Chrissy Teigen and John Legend recently welcomed a baby girl, Luna, to the family. However, not everyone is using the opportunity to give the celebrities some love.
Recently, the new mom has been the focus of harsh criticism on social media for her apparent "lack of parenting skills." Thankfully, Teigen called out her haters and the Daily Show's Desi Lydic has her back as well. 
Lydic, a new mom herself, broke down the "mom-shaming" that occurs as the result of being a new parent in a segment on Tuesday. Essentially, no matter what you do, you're going to get criticized — such as, the hypocrisy with breastfeeding.
"Sure, 'breast is best,' unless you're breastfeeding in public, and then everyone wants you to put those tatas away," Lydic said in the segment. 
Lydic was quite perplexed about the backlash Teigen has received and why people were so distraught that the couple had a night out and left Luna with a babysitter. Especially, since they aren't strapped for cash. 
"You're worried about the quality of John Legend and Chrissy Teigen's child care?" Lydic posits. "It's not like they're getting their nanny off of Craigslist. They're rich celebrities. They could get Mary Poppins to watch their baby, as in literally call Julie Andrews, get her to come out of retirement to babysit in character as Mary Poppins." 
In response, Legend applauded the segment on Twitter, and was excited for Luna's first Daily Show "appearance." Moreover, he lamented that he hasn't received any "dad-shaming" in the process and would rather share the baby-raising criticisms with his wife. 
You can check out the Daily Show's momsplaining segment here. 
Read more: Chrissy Teigen Takes Down the Trolls Criticizing Her Parenting Skills