In Goalball — An Intense, Fast-Growing Sport —Being Visually Impaired Is an Advantage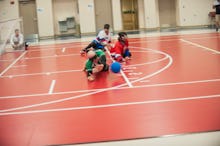 If you're heading to the 2016 Paralympic Games in Rio de Janeiro this September, there's one heated competition you can't pass up.
From one end of the rectangular court, an athlete will send a large ball hurtling toward three opposing players at around 40 mph. Those opponents will have less than one second to hurl their bodies into the ball's path, lest it cross their goal line and earn the other team a point.
What's more, none of the players will be able to see. 
It's called goalball: the sport that levels the playing field for blind and visually impaired athletes.
In each 24-minute game, two teams of three blindfolded players compete to roll a ball past each other's goal lines. To excel, athletes have to rely on their other senses; the ball contains a bell so they can hear it moving, and the lines on the court are demarcated with tape and string, so players can feel them. 
"You have to be able to be focused — constantly ready to listen and adjust, and to make the right play before the ball is even thrown," Joe Hamilton, a member of the U.S. men's goalball team, said over the phone. Hamilton is based in Fort Wayne, Indiana — home of Turnstone, the Paralympic sports club where his team trains full-time for the upcoming 2016 Games. 
The strategy: It's not always easy to anticipate where the ball will go, Hamilton explained. 
"Teams will make a soft white noise, like a shhhh, so a player can move around the court without his opponents being able to hear where he's going," he said. In another common tactic, one player will do a hard sprint forward as if he's about to throw, but then another player on his team will wind up and throw the ball instead — a classic fake-out.
"When you have possession of the ball, one thing you really want to do is take advantage of the fact that the other team can't see what you're doing," Hamilton said.
Have the players developed supersonic hearing abilities? Not exactly, according to Coach Matt Boyle. "It's a common misconception that when you lose one sense, the other senses get stronger," he said in a phone call.
"The best way to put it," Boyle continued, "is they have unbelievable amounts of awareness of the sounds around them."
Anyone with or without vision can play goalball, since all players are required to be blindfolded. But in certain international tournaments, such as the Paralympics, players must be legally blind, Boyle said. 
Hamilton was 10 when he first played goalball, at a sports camp for blind children. His vision had been declining since birth, but after he lost it completely at age 12, the sport "really just became my passion," he said. He and his brothers had always been into team sports, and finally, there was a sport he could play as well as — or better, even — than them.  
"When I'm out there, I love it," Hamilton said, "because no one has an advantage over me."
The history: Goalball was invented in 1946 by Austria's Hanz Lorenzen and Germany's Sepp Reindle to help rehabilitate blinded war veterans, according to the International Blind Sports Federation. The sport made its world debut at the 1976 Toronto Paralympic Games, and has been a Paralympics mainstay ever since. 
Today, it's played in national and international competitions all around the world, with the U.S. Goalball National Championships coming up this June at Turnstone. Between 20 and 28 men's and women's club teams will compete, according to Turnstone CEO Mike Mushett. 
"It's a growing sport," Mushett said over the phone. "We're just beginning to scratch the tip of the iceberg on its potential."
The training: Meanwhile, Hamilton and the rest of the U.S. men's goalball team are following a rigorous training regime in preparation for the Paralympics — a combination of practices, strength and conditioning sessions and meetings with trainers. 
Earlier this month, the team traveled to Rio to play in a tournament to test the functionality of the Paralympic Games facilities. Four teams were invited — Finland, Lithuania, Brazil and the U.S. — and the U.S. finished fourth. In a press release, the U.S. players still said it was helpful to get a lay of the land on which they'll be competing in September. 
"I look forward to the best possible scenario," Hamilton said of the Paralympics, when we spoke in April. 
The fans, he said, are "going to have to watch U.S.A. play in that gold medal match."