Racist Blowhard Geraldo Rivera Calls Black Men "the Hip-Hop Vote"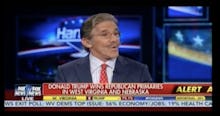 Fox News commentator Geraldo Rivera — the guy who said hip-hop has done more damage to minorities than racism — thinks he knows how Donald Trump can shave off minority votes from the Democratic nominee to win the election.
Referring to African-American men as "the hip-hop vote," Rivera said on The Sean Hannity Show Tuesday that Trump could court the voting bloc by brandishing how rich he is and stressing his anti-immigrant bona fides.
"If Donald Trump can go to black men and say, 'Trump is keeping out your competition for jobs with the immigration stuff' and also 'Trump is rich, you can be [too],'" Rivera said on the program. "If he can get the hip-hop vote — if he can get that number from 10% to 15%, 18% — in a state like Ohio, [that] makes a difference."
If stereotyping all black men as "hip-hop" doesn't make you roll your eyes, Rivera's underlying point should. 
After decades of demagoguing against minorities and dog whistling about "welfare queens," the GOP isn't going to repair the damage by telling black voters they can be just as rich as a billionaire candidate. Trying to stoke resentment between black and brown-skinned immigrants isn't going to help, either.
Unsurprisingly, no one else on the Fox News panel blinked an eye at the comment, but the Twittersphere responded with gusto:
Here's a piece of wisdom for anyone hoping to win minority votes: Don't take advice from a racist — especially one as dumb as Rivera.
h/t Media Matters