9 Times Teens Have Shown That They're Pretty Much Better Than the Rest of Us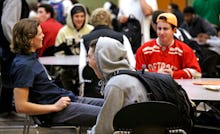 Ah, kids these days — is there anything they can't do? From discovering ancient ruins to inventing STI-detecting condoms, here are some teens that put you to shame, you lazy 20-something.
1. This anti-bullying author
Sikh-American high school student Karanveer Singh Pannu wrote a book about Sikh students being bullied in school. In April, he spoke publicly about his own experiences with discrimination after he was forced to remove his turban during an airport security check.
2. This Native American model
Daunnette Reyome, 17, spoke out against cultural appropriation of Native dress and heritage in a piece for Teen Vogue earlier this year. 
3. This teen tennis champ
Fourteen-year-old Tanisha Kashyap is the number one tennis player in her category in all of India and will compete in August at the HSBC Road to Wimbledon.
4. The 14-year-old feminist who took on the Financial Times
After running an article about moms buying baby products, the Financial Times got schooled on reinforcing gender stereotypes by a scathing letter to the editor from 14-year-old Anna Schleiter Nielsen.
5. This teen fighting child marriage
Omaima Hoshan, a 15-year-old living in a camp for Syrian refugees in Jordan, was moved to fight the practice of girls being married off to older men after seeing her best friend married at only 13. Now Hoshan is working with the U.N. to speak out against child marriage.
6. The trans teen who stood up to Ted Cruz
Back in April, 16-year-old James Van Kuilenberg showed up at a Maryland rally for Texas Senator and former presidential candidate Ted Cruz holding a sign that read "Human rights are not up for debate." He was asked to leave, Van Kuilenberg says, because he's trans. But being thrown out of a Cruz rally hasn't stopped Kuilenberg's campaign to stand up for LGBT youth. 
7. This high school student calling out rape culture
Nadia Goldman, 18, is used to public speaking — she's been a competitive debater for years. But when she was required to give a speech in front of her whole school, she turned it into a speech about rape culture. Her speech went viral and inspired many other young women to share their experiences with sexual assault.
8. This teenage mini-brain inventor
At 16 years old, Christopher Hadiono managed to build a 3-D printed bioreactor that can grow organs from human stem cells (with help from a team of fellow high school students). His invention is now being used by researchers to help understand the effects of Zika virus.
9. The teens who came up with color-changing condoms.
Last June, 13- and 14-year-old inventors Musaz Nawaz, Daanyaal Ali and Chirag Shah made headlines when they came up with the idea for the S.T.EYE — a color-changing condom capable of detective STIs during sex, rather than after.