Who Will Hillary Clinton and Donald Trump Pick as Their VPs? A Look at All the Candidates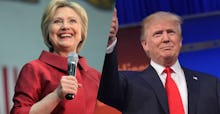 It's that time of the election season when speculation takes over. With the shock of Donald Trump's impending nomination and former Secretary of State Hillary Clinton's anticipated Democratic nomination for president of the United States still being absorbed, attention is now shifting to another — more traditional — phase of the process: vice presidential running mates. 
Indeed for both Trump and Clinton it's the most important first decision of their potentially nascent presidencies. Whoever they choose will both reflect their judgments as well as cold calculations of geography, demography and identity.
"I don't know if there is a crazy idea this year," Christopher Nicholas, president of Eagle Consulting Group, which advises Republican candidates, said by phone. "The rules have been so rewritten." 
Nevertheless, as the general election approaches, there's no harm in a little parlor speculation. On both sides, a number of names have been floated. Some are safe choices, others more risqué. 
So without further ado — here are some people you may be seeing a lot of over the next four to eight years!  
The Democrats 
Plan A: Sherrod Brown
With Clinton's strong embrace of Barack Obama's legacy, many have speculated she would continue his model of anointing a vice president who shares her policy goals but balances the ticket in a way that shores up her own weaknesses. To that end, enter Sherrod Brown. The Ohio senator is the image of a liberal Washington insider and while his experience isn't quite at Joe Biden level, he would give Clinton a leg up with the white men who form the core of Trump's support. His status as a son of the Buckeye State also gives him extra cache in what has become the country's most critical swing contest.   
Plan B: Tim Kaine
For a candidate so stage-managed as to approach algorithmic proportions, it should come as no surprise that Clinton's Plan B looks quite a lot like her Plan A. In Tim Kaine, a senator and former governor of Virginia, Clinton gets the same combination of safe white man, who is popular with voters Clinton does poorly with. Like Brown, Kaine also comes from a swing state (Virginia) that Clinton doesn't need quite as much as Ohio — but is still important as a hedge against losses elsewhere. Kaine is also widely considered more centrist than Brown.
Dark Horse: Elizabeth Warren
Though recent history would suggest Clinton balance her ticket with someone like Brown or Kaine, she could go with a running mate quite a bit more like herself — someone like Massachusetts Sen. Elizabeth Warren.  
The move would be in step with her husband, who picked fellow white southerner Al Gore on his ride to the presidency in 1992. A double-woman ticket would be historic, but also a gamble. Warren is a polarizing figure among moderates and, representing Massachusetts, does nothing for geographic diversity. She would offer other benefits over her male counterparts, however, most critically mobilizing women.
"[Trump's] strategy is to drive up [Clinton's] unfavorability ratings until they're closer to his," Mary Ann Marsh, a political analyst and principal at Dewey Square Group, said by phone. "The more negative the campaign is, historically, the less women vote."
The Republicans 
Plan A: Chris Christie
Though often now seen in the billionaire's shadow and as the butt of jokes, Christie is a serious contender for the No. 2 spot on Trump's ticket. The brash Republican governor took a big risk endorsing Trump long before he became the presumptive nominee, and was one of the earliest and biggest establishment Republicans to do so. The two men have a friendship going back years, and both are known for an attack-dog style of leadership. The billionaire places a high premium on the loyalty of his surrogates and, together, the two political pugilists would be a formidable pair.
Plan B: John Kasich
An arguably bigger get for Trump would be perennial thorn-in-side candidate John Kasich. Though functionally vanquished from contention months before he dropped out, the Ohio governor did win his own state primary convincingly and could prove critical for Trump to compete there. This would be especially true if Clinton opts for the state's senior senator Sherrod Brown as her pick (see Democrats, Plan A). 
As a happy warrior who eschewed much of the campaign's uglier moments, the jovial Ohio governor would go a long way toward "professionalizing" the Trump brand and putting establishment nerves at ease. Unfortunately, the governor has signaled he is not interested — for now.
Dark Horse: Jim Webb
Now, if you're thinking, "Hey wait a minute, didn't that guy run for president as a Democrat?" the answer is yes, but the campaign was so ephemeral that you'd be forgiven for not noticing. Though he's nominally a Democrat, Webb's hawkish foreign policy and tough domestic stances put him painfully out of sync with the modern Democratic party. After flirting with a vengeful third-party run, Webb went on record to say he would not vote for Clinton and was open to voting Trump. Like Trump, Webb is passionate on veterans' issues and, as a former Virginia senator, could help the billionaire compete in that state. Nominating the crotchety ex-Democrat would position Trump well to not only shore up his white male voting blocs, but potentially also draw in moderates looking for bipartisan bonhomie.