These Are the Secret Tips to Removing Hair Dye at Home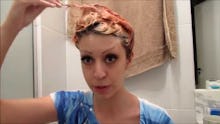 Colorful hair can be exhilarating, but after the blue begins to fade to a murky green, or you've become tired of scrubbing your shower to try to clean up what looks like a massacre of unicorns each time you wash your hair, you may be ready for a change. 
While color dyes such as Manic Panic or Punky Color are semi-permanent and fade with each wash, be it that you're ready to move from blue to purple, are tired of the upkeep or wish to blend in again with a natural hair color, that blue hair color may not be fading fast enough.
If a pricy salon visit is out of your budget, are there any at-home methods of color hair dye removal that actually work? It turns out, yes: But there's a bit of a catch. 
Method: Dandruff shampoo and baking soda
When soliciting Google for wisdom on how to remove blue dyes, one of the first suggested methods is combining dandruff shampoo with baking soda. Dandruff shampoos have a higher pH level, and baking soda is a natural bleach, so (theoretically) the combination of the two works wonders at lightening stubborn dyes. 
Writer Ivy St. Ive, who has worked as a hair model and had her hair dyed every shade of the rainbow, tested out this method after being left with purplish black hair upon dying her hair at home. While it took a while, she says dandruff shampoo and baking soda worked to help lighten the color. "I mixed two tablespoons into a small bottle of Head and Shoulders and washed every day. I'd say it lightened up in three or four months, enough to the point where my brown roots weren't noticeable," she said in a phone interview.
Beauty blogger Emmy Geraghty of That Cheap Bitch also saw success with this method. "The way [removing Manic Panic] that worked the best was the dandruff shampoo mixed with baking soda. It's pretty hard on your hair, so make sure to use a super conditioning conditioner afterwards," she said in a phone interview.
Method: Color Oops
If using what you have at home to remove color has not impressed you, it may be tempting to spend $14 on a product like Color Oops, which claims to "take you back to your original color." 
However, according to New York City-based hairstylist Hayleigh Hatcher, who previously shared advice with Mic on how to seamlessly transition between unnatural hair dyes, products like this aren't worth your time or money. 
"Products like Color Oops will certainly have an affect on your hair's tone... it's just not a good one!" Hatcher wrote via email. "Every strand of hair is made of three parts: roots, mid-shaft and ends. Each section of each strand is very different from the next. The porosity, density and strength differs which causes a different reaction throughout the strand to products and treatments. This leads to an uneven, spotty, or stripy, look."
Read more: The Secret to Switching Between Unnatural Hair Colors Is Easy
Method: Lemon juice 
As you may remember from sunbathing in high school, lemon juice is supposed to lighten your hair, and thus also lift dye from hair. While it's another method that is cheap and easy, as Ivy puts it, this method may be as ineffective at delivering results as when you tried to smoke oregano in 10th grade. 
"I'm thoroughly unconvinced of the efficacy of that," she said. Hatcher confirmed that similar to dandruff shampoo and baking soda, while this may lightly lighten your hair, it's not strong enough to make a real difference. 
Method: Vitamin C powder 
Rather than mess with lemons, many beauty bloggers report going straight to vitamin C to remove color, by mashing up vitamin C tablets with shampoo. As Christina Seimenis explained in xoVain (where she detailed her experience trying the method to remove pink hair dye), the crushed up vitamin C should open up your hair cuticle just as lemon juice can. 
"It definitely did lift some of the color, but I wasn't that impressed with the results," Seimenis said in an email. "If you need to lift color really quickly and effectively, I'd pass on that and go for something stronger, like a bleach bath."
The professional agreed. "Removing hair color at home is a dicey situation. While methods like vitamin C powder contain acids that may fade or strip down the color, they lack the strength to fully combat the situation," Hatcher said.
Method: Soap cap/bleach bath
A soap cap, also referred to as a bleach bath, involves mixing shampoo with bleach, and allowing it to sit on your hair under a cap for 20 minutes or so as your hair lightens. However, while less harsh than an undiluted bleach kit, trying bleach at home is still a precarious operation. 
"The most effective way to remove hair color is a "soap cap," a mixture of shampoo and bleach," Hatcher said. "[However] what makes the soap cap so effective is the professional applying it. This should not be done at home."
The takeaway: Baking soda mixed with dandruff shampoo or adding vitamin C powder to your shampoo can lighten color — but don't expect it to remove all the dye in one sitting. Both methods take time and patience to remove color, and can be drying, so stock up on a nourishing conditioner. For instant results you may be doomed to bleach, and unless you're well-practiced in the art of at-home hair bleaching, if you need that purple out tomorrow — the salon splurge might be worth it.