The White Police Officer Charged With Killing Walter Scott Will Remain Free on Bail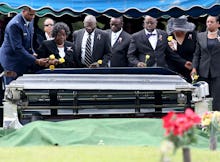 The white police officer facing charges for fatally shooting Walter Scott, an unarmed black motorist, in 2015 will remain free on the $500,000 bail payment he previously posted for the state charges he is also facing.
Michael Slager, a former South Carolina police officer, was indicted by a grand jury on Wednesday for federal charges of obstruction of justice and unlawful use of a weapon, which come in addition to the charges he is already facing at the state level.
As Scott, 50, attempted to flee the scene of a traffic stop in April 2015, Slager, 34, fired eight rounds into his back.
Shaky cell phone video taken from the scene later helped to disprove Slager's claim that Scott had been approaching him with a Taser when he fired his weapon in self-defense.
(Editor's note: This video contains disturbing footage. View with discretion.)
According to the Los Angeles Times, Slager's Wednesday indictment corroborates the video evidence that surfaced from the scene.
"Specifically, defendant Michael Slager knowingly misled SLED investigators by falsely stating that he fired his weapon at Scott while Scott was coming forward at him with a Taser," it says. "In truth and in fact, as defendant Michael Slager then well knew, he repeatedly fired his weapon at Scott when Scott was running away from him."
Slager was charged with murder at the state level in 2015.
According to the the Post and Courier, Scott's family said they were proud of the Justice Department for taking action on a case that might have been subjected to local prosecution had it not been for the intense media attention the incident received.
Scott's death came during a time of intense scrutiny of instances of police abuses against unarmed black civilians. 
It was preceded by the 2014 deaths of Eric Garner, a father whose asthma was exacerbated after police put him in a chokehold for selling loose cigarettes, and Michael Brown, the Ferguson, Missouri, teenager whose shooting sparked national riots.
In addition to his $500,000 bail payment, Slager was also forced to surrender his passport and must submit to GPS monitoring.
If convicted, he faces a potential sentence of life in prison without parole. His state trial is set to begin this fall.