What It's Like to Have Sex After Undergoing Female Genital Mutilation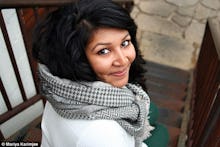 Mariya Karimjee has had sex once in her life — sort of. When she was a senior in college, Karimjee, now 27, decided it was finally time to do the deed with her boyfriend of a year, even though he had repeatedly said he was willing to wait until she was ready. Though she never felt pressured to engage in more physical intimacy, she felt like she needed to have sex anyway — to "get the act over with," as she later described it. 
So, Karimjee had sex. And, as she feared and expected, it was excruciating. 
"The pain was everywhere; I couldn't figure out what hurt and where," Karimjee wrote of the experience in an essay for the Big Roundtable last year. "... I sat in the bed, allowing myself to cry for the first time since we'd begun talking about sex. For the first time since I'd admitted to him that I might never be able to enjoy a sexual experience. That when I was younger, someone had taken a knife to my clitoris and cut out a small but significant part of me." 
As she went on to explain in recent episodes of This American Life and The Heart, when Karimjee was 7 and growing up in Karachi, Pakistan, she had part of her clitoris removed, in accordance with the beliefs of the Dawoodi Bohra sect of Islam. She is one of at least 200 million people around the world to undergo female genital mutilation, a practice the World Health Organization defines as "all procedures that involve partial or total removal of the external female genitalia, or other injury to the female genital organs for non-medical reasons." 
Also referred to as female genital cutting or female circumcision, FGM is widely considered an act of gender-based violence as well as a human rights violation, a practice typically performed on young girls (and, occasionally, female infants or teenagers) in a variety of cultures. WHO asserts that the practice "has no health benefits, and it harms girls and women in many ways." 
WHO classifies the procedure into four primary types, each of which can have different effects on survivors' sexual health and comfort: clitoridectomy, which results in at least partial removal of the clitoris; excision, or a clitoridectomy plus removal of the labia minora; infibulation, which involves narrowing the vaginal opening by cutting and repositioning the labia (sometimes by stitching) with or without removing the clitoris; and all other harmful treatment of the female genital area, including but not limited to piercing, incising or cauterizing. 
FGM is, in many societies, a long-standing cultural practice, which continues for reasons that vary from place to place and heritage to heritage. But, according to WHO, the procedure is generally tied to beliefs about acceptable sexual behavior, meant to deter promiscuity and strip women of erotic desire — or, potentially, enjoyment. 
As Karimjee and millions of others have found, it can be extremely effective at doing just that. 
"Sex did not go the way popular culture or anecdotal evidence told me it would go," Karimjee said in a phone call with Mic on Thursday, explaining the lasting effects her first experience had. She has not attempted to have sex since she first tried in 2010, primarily because of continuing anxiety about the experience. 
"I gear myself up, but for me, the fear is so great that in the moment, I don't know if I feel anything but afraid," she explained. "I am not able to get out of my own head long enough to be able to be like 'I'm turned on.' That happens very rarely for me, and it takes months to feel comfortable enough."
In a phone call with Mic this week, Dr. Doris Chou, medical officer for the Department of Reproductive Health and Research at WHO, said research suggests women who are living with FGM "are more likely to experience pain or reduction in sexual satisfaction and desire," and, in addition to significant pain during intercourse, might face reductions in arousal, decreased lubrication during sex, limited capacity for orgasm or even anorgasmia.
Though people who undergo clitoridectomies, excision or infibulation can (and often do) still experience some amount of sexual pleasure, a majority have reported lower rates of arousal or sexual fulfillment — in studies, at least. Anecdotally, there's less information available about the realities of having sex — or not — after FGM, not to mention what that means for individual women's overall wellbeing.  
"[There] are actually quite physical consequences, but there's also the psychological," Chou said. "We do know women and girls who have undergone FGM suffer anxiety or post-traumatic stress disorder. In the context of a sexual relationship, we are concerned that women might have difficulty really actually having any kind of sexual life." 
"We are concerned that women might have difficulty really actually having any kind of sexual life." 
The implications of that difficulty can be devastating, as illustrated by a growing number of women like Karimjee, who have begun to share their (often traumatic) experiences of developing, maintaining or even wanting sex lives with parts of themselves missing. 
"I've spoken to women in my sect who have also been cut, who never, ever, ever want to have sex because they're so traumatized by what happened to them, and other women who have very vague memories but say they never get turned on, so it clearly worked," Karimjee said.
Indeed, much of the struggle with desire is due not only to the intense physical pain women who have been cut might experience during intercourse. Natalie Kontoulis, advocacy and communications officer for the organization End FGM, has found that for many people, it has to do with deeper, more complicated feelings about sexuality and personal autonomy.
"If a person who has undergone FGM is not in severe physical pain, she might not feel much — sensation might be gone," Kontoulis said via Skype on Thursday. "It can feel like you're a vessel, doing this to serve your partner, making sex less of a partnership. Some survivors feel they're not fully women. I think when you've literally had a part cut out of you, you cannot feel whole for those reasons." 
There can also be lifelong trauma associated with being cut in childhood, Kontoulis added, which might be compounded by a lack of opportunity to talk about "how you were, potentially, betrayed at a young age by those you trusted most."
For quite some time that was true for Karimjee, who felt extreme rage toward her mother, in particular, for allowing her to be cut. After her family moved to the United States when she was 11, Karimjee went on to struggle with her parents' justification for the decision, which she believes was based on harmful cultural views about desire.
But those views were not necessarily unique to her sect of Islam or other groups that practice FGM. Karimjee has found that spending her adolescence in a conservative, predominantly Baptist Texas suburb contributed to her complicated feelings about her own sexuality.
"It's hard for me personally to reconcile the fact that my parents were fundamentally responsible for having me cut, but at the same time these were the same people who never made me feel sex was bad," Karimjee said. "My parents never made me feel like sex was something I needed to be ashamed of. But my peers in high school definitely got that from their churches and their parents, and transferred that on to me."
"When you've literally had a part cut out of you, you cannot feel whole."
The combination of physical and psychological trauma from the overall experience of FGM can lead some women to pursue therapeutic options ranging from sex therapy (something Karimjee says she's looking into) or even clitoral restoration surgery. 
According to Dr. Marci Bowers, a gynecological surgeon who works for the organization Clitoraid, restoration can be life-changing, but it's usually not enough. It's also not always an option: As Bowers said in a previous interview with Mic, although FGM is practiced around the world — including in the U.S. — a significant proportion of people who have been cut lack access to medical services like restoration.
"It's a tremendous thing if you're able to restore — it's like giving sight to a blind person," Bowers said by phone this week. "But anything associated with that part of the body, people remember that pain. Even where there's sensation, in an area where someone had pain before it's hard to retrain the brain to see any [non-painful] sensation as a positive sort of thing. It's hard to trust again."
And while FGM opponents like Kontoulis note it's still crucial to consider the practice an act of violence, it's also important not to tell someone she shouldn't feel good about sex if she never felt bad about it before.
"I've heard survivors say [their FGM] doesn't bother them, they still get pleasure from sex," Kontoulis said. "That might be physically absolutely true, or it might be that they just don't expect to have pleasure. It doesn't bother them. In that sense, it's difficult, because you don't want to impose your own kind of pleasure system or cultural system or sexual system on another person. But the problem with that is there's a line between trying to be culturally diplomatic and treating FGM as a human rights violation, and it's difficult to not cross it." 
It's an issue that leaves Karimjee with complex feelings as well. She, too, has spoken with many women who have been cut but have not faced her same struggles with sex, yet still have lingering questions about whether they should feel satisfied. 
"I personally have never spoken to anyone — even women who are married and having sex who've been cut, who say 'I don't know if I'm orgasming, but I do enjoy having sex with my husband' or 'I enjoy the act of sex, it doesn't hurt' — who doesn't also say, 'But I still wonder what it would be like,'" Karimjee said. "It's an ever-present question for them."
"In some way, they feel something was taken away from them — something intangible," she added. "As long as that feeling is still out there, there's definitely still a problem."